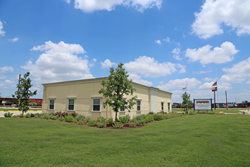 DeSoto, TX (PRWEB) July 14, 2015
Palomar Modular Buildings is releasing a case study for the recently completed Fort Worth & Western Railroad Hodge Yard project in Fort Worth, Texas. The 2,376 square foot building is composed of 3 seamless modules prefabricated at the Palomar manufacturing facility in DeSoto, Texas.
The Fort Worth & Western Railroad case study provides valuable insight into the development process behind the company's advanced modular buildings. Design barriers, development challenges and timelines are just a handful of the project details covered in each case study. The company hopes that by sharing the lessons they have learned from years of developing modular buildings that they can show the building process can be traversed quickly and efficiently.
The Fort Worth & Western Railroad case study along with a host of other case studies are available for download at the company's website.
About Palomar Modular Buildings
Palomar Modular Buildings manufactures advanced modular buildings for a range of industries including office, retail, healthcare, education and workforce housing. The company's state-of-the-art manufacturing facility in DeSoto, Texas, is staffed with a dedicated full-time workforce of skilled tradesmen and production managers has produced hundreds of modular projects from simple additions to complex new facilities.
# # #
If you would like further information about this press release or to schedule an interview with John Martin, please contact John Martin at jmartin(at)palomarmodular(dot)com or call 1-866-312-4032.