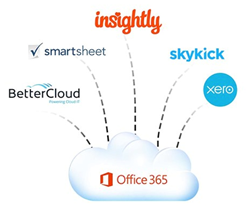 This is a great opportunity for our channel partners to accelerate their cloud revenue by leveraging the QuickStart Bundle for Office 365.
Orlando (PRWEB) July 15, 2015
Today at Microsoft's Worldwide Partner Conference (WPC) in Orlando, leading cloud vendors Insightly, Smartsheet, Xero, Skykick and Bettercloud announced the QuickStart Bundle, an offering comprised of the five third-party business apps, which are all integrated with Office 365. The QuickStart Bundle is designed to be a turnkey solution of best-of-breed cloud solutions that make it simpler for business users to adopt and use cloud services.
The products from each company will be bundled together as a single SKU and will be available from reseller partners later this year.
The QuickStart Bundle, spearheaded by the ISVs and endorsed by Microsoft, reinforces the central role Microsoft Partners play within the company's cloud strategy by selling Microsoft solutions as well as providing value-added services to customer organizations. For businesses, the bundle represents a clear path to transition key business processes and workflows to the cloud with software that works seamlessly with Office 365.
"This bundle of leading third party cloud solutions directly supports Microsoft's efforts to double down on the discovery, usage and consumption of cloud apps that complement Office 365," said Mark Mader, CEO of Smartsheet, one of the ISVs in the QuickStart Bundle. "This initiative delivers on that promise. Microsoft is providing strong support, and we look forward to helping businesses and channel partners alike extend the value of their Microsoft strategy and infrastructure."
The popular, industry-leading cloud products in the QuickStart Bundle for Office 365 include:

Insightly - Simple to use, yet powerful CRM platform for managing leads, contacts, proposals, opportunities, project, tasks- and files
Smartsheet - Spreadsheet-inspired work management platform for managing and collaborating on projects and processes
Xero - Easy-to-use cloud accounting software for small businesses and their advisors which manages invoicing, bank reconciliation, bookkeeping, and more
Skykick - New category of cloud management products that enable IT partners to migrate, backup and centrally manage cloud data and services for popular cloud products
BetterCloud - Comprehensive platform used to gather critical insights, automated management, and intelligent data security for cloud office apps
"The QuickStart Bundle for Office 365 is a shining example of how Microsoft is working with best-of-breed SaaS partners to make it simpler for our SMB customers to purchase an end-to-end cloud solution," added Gavriella Schuster, General Manager, Microsoft Worldwide Partner Group. "This is a great opportunity for our channel partners to accelerate their cloud revenue by leveraging the QuickStart Bundle for Office 365."
For more information on the QuickStart Bundle, WPC attendees can visit the Smartsheet Booth #1007. Resellers are encouraged to learn more and sign up at quickstartbundle.com.
###