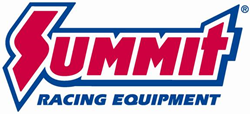 Tallmadge, OH (PRWEB) July 16, 2015
FTI Performance torque converters are built for the street and drag racing from the brackets to Pro Mod. It also offers something no other converter builder does—free stall speed adjustments for a year from date of purchase, which can be a big deal when a race is trying to get that last tenth of a second or extra couple of miles per hour.
Summit Racing offers four types of FTI torque converters for street/strip applications:
SB Series Converters
SB Series torque converters are an excellent choice for mildly modified street and bracket engines. The converters feature Torrington bearings, a hardened impeller hub, furnace-brazed and TIG-welded fins, high performance clutch lining, and an upgraded sprague that is stronger than the OEM part. SB Series torque converters are available for these transmissions. Stall speeds range from 2,400 to 3,200 depending on application:

GM 700R-4, 2004-R, 4L60/4L60E, 4L65E
Ford C-6, AOD, 4R70W, 4R75W
ESR Series Converters
The ESR Series torque converters are designed for mildly modified vehicles with non-lockup transmissions. They are built using Torrington bearings, a race-prepped sprague and hardened impeller hub, hardened turbine hub and splines, a new steel pilot, and laser-cut mounting ring. The ESR converters are available for Chevy TH-350, TH-400, and 700R-4 transmissions.
SRL Series 9.5 Inch Billet Lockup Converters
FTI Performance recommends these converters for late model cars with bigger cams, superchargers, or nitrous. The 9.5 inch diameter converters feature a computer-designed, CNC-machined billet front cover and a billet lockup piston to prevent premature clutch wear. Other features include furnace-brazed and heli-arc welded fins, a severe-duty sprague, and an anti-ballooning flanged impeller hub. Small wonder FTI Performance gives the SRL converters a three year warranty.
For racers making some really serious horsepower, there are the SRL-3 Series Billet Triple Clutch torque converters. They have the same performance features as the standard SRL converters, but are engineered to lock up under full throttle and can withstand some abuse.
SRL and SRL-3 Series converters are currently available for 4L60 and 4L65E transmissions.
Summit Racing also carries FTI Performance Chevy Turbo 400 and 700R-4 racing transmissions plus rebuild kits, cases, and other internal components for racers that want to build their own transmission.
Summit Racing Equipment
http://www.SummitRacing.com
1-800-230-3030