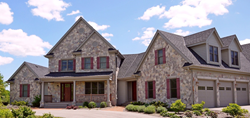 Liz Clark, the seller of the Sportsman's Retreat commented, "It honestly could not have worked out any better for both sides."
Charlotte, NC (PRWEB) July 15, 2015
The country's first exclusively online luxury real estate marketplace announces the sale of W4079 Highway H, Fredonia, Wisconsin 53080. This luxury 7,500 square foot property located on 74± acres went under contract prior to the scheduled auction set to begin June 15th. The sale, hosted in cooperation with Paul Handle & Peter Mahler of Mahler Real Estate Group, represents the highest sale for a residential home in Ozaukee County in 2 years. The buyer, from Chicago, closed within 10 days from the date of the contract for $1,875,000. Marking the total time from when the property was listed on the platform to closing only 49 days.
"This is a remarkable result and speaks to the disruption Interluxe is bringing to the real estate industry", stated Scott Kirk, President and Founder of Interluxe. "We've created a true platform that proves luxury properties don't have to be distressed in order to be sold through an online marketplace for fair market value."
Around the country real estate agents are partnering with Interluxe for the sale of luxury homes via their innovative and highly effective online auction platform. Handle noted, "Partnering with Interluxe was the perfect solution for this remarkable property. Their platform was attractive to us not only because we maintain the representation of our client, but also because their marketing strategy was innovative and delivered us serious interest from qualified buyers. We were able to procure an offer prior to auction that resulted in us selling the property for the highest price in the county in 2 years! The bottom line is their platform works and we are eager to implement this strategy with more of our clients and we would certainly recommend them to other agents and sellers."
Liz Clark, the seller of the Sportsman's Retreat commented, "We are thrilled with the price, the high quality of the buyer and especially to have found a buyer who is so excited to have what we created, and who will love and value the property as we did. It honestly could not have worked out any better for both sides."
Real estate agents and sellers with luxury properties who want to learn more about Interluxe's industry leading online auction platform should visit http://www.interluxe.com
About Interluxe:
Interluxe.com is the next step in the evolution of the real estate auction industry. The streamlined and intuitive Interluxe online platform allows motivated sellers, qualified buyers and seasoned agents to purchase and sell luxury properties valued in excess of $750,000 in destinations all over the world at auction online. Interluxe's platform is the first of its kind to exclusively represent high end, non-distressed properties through an accelerated and customized marketing process that obtains fair market value for sellers in a 45-day timeframe. More information is available at http://www.interluxe.com