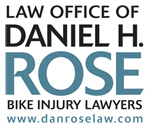 San Francisco, California (PRWEB) July 16, 2015
The Law Office of Daniel H. Rose is sponsoring the San Francisco Bicycle Coalition's Golden Wheel Awards 2015, as it has proudly done for several years in support of safe and enjoyable urban bicycling. The event, being held on July 30, 2015 at the Delancey Street Town Hall, honors individuals and groups who are making a difference in transforming San Francisco into a more bike-friendly city.
This year's event specifically honors The San Francisco Yellow Bike Project and SF2G. The Yellow Bike project is a grassroots, pop-up, do it yourself, organization which refurbishes old or broken bikes and thereby promotes bicycling as a means of transportation in neighborhood communities such as The Tenderloin. SF2G is an organization of riders who bicycle from San Francisco to various Peninsula destinations and advocate for improvements to routes in between. This year's keynote speaker will be Peter Norton, who is an associate professor in the University of Virginia's Department of Engineering and Society, a member of the university's Center for Transportation Studies, and an award winning author.
The San Francisco Bicycle Coalition (SFBC) is one of the largest and most effective bicycle advocacy groups in the United States. Through their day-to-day advocacy, education and working partnerships with City and community agencies, the SFBC creates safer streets and more livable communities throughout the City. Their work has had a dramatic effect on making the City a more bicycle friendly place to live and work, and our law firm heartily applauds their tireless work and transformative accomplishments.
The Law Office of Daniel H. Rose is a San Francisco personal injury law firm specializing in the representation of injured bicyclists and pedestrians throughout the San Francisco Bay Area, with more than 30 years of experience. Our firm is a major supporter of bicycling advocacy and provides legal counseling to bicyclists throughout Northern California.
LAW OFFICE OF DANIEL H. ROSE
One Sansome Street, Suite 3500
San Francisco, California 94104
Tel: (415) 946-8900 Fax: (415) 221-0892
danrose(at)danroselaw(dot)com