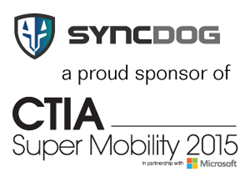 We're looking forward to sharing the latest product developments with attendees at CTIA Super Mobility.
Reston, VA (PRWEB) July 15, 2015
SyncDog, Inc., the leading ISV for mobile application containerization, today announced its involvement as both expo-hall exhibitor and panel sponsor at APP-SOLUTELY Enterprise in the CTIA Super Mobility 2015 conference. SyncDog will features its containerized application security product SentinelSecure™ for enterprise mobile as one of the 1,100+ exhibitors from around the globe at this mobile innovations event, scheduled to bring more than 40,000 attendees.
Participants can expect to learn more about SentinelSecure, SyncDog's defense-grade mobile security product, which is a comprehensive platform that manages mobile provisioning and management, application security through containerization, mobile log management for network security and compliance reporting. SentinelSecure was recently named one of the 20 most promising BYOD solution providers in the world by CIOReview Magazine.
As a panel sponsor, SyncDog will participate in the APP-SOLUTELY Enterprise seminar on Wednesday, Sept. 9. The 30-minute panel discussion will feature enterprise solutions and applications and will be moderated by an industry analyst.
"We're proud to be back at CTIA again this year," said Jonas Gyllensvaan, SyncDog president and CEO. "We have spent the past year adding several enhancements to SentinelSecure from customer and marketplace requirements, and we're looking forward to sharing those new developments with the attendees at CTIA Super Mobility."
SyncDog will be exhibiting from booth #6647 in the MobileCON area. Exhibit floor hours are 10:30 a.m. – 5 p.m. Sept. 9 and 10, and 10:30 a.m. – 3 p.m. Sept. 11. SyncDog is providing free expo hall passes to CTIA Super Mobility -- click here to download the complimentary pass.
About SyncDog, Inc.
SyncDog is the leading independent software vendor (ISV) for containerized application security for enterprise mobile computing. SyncDog's flagship product SentinelSecure™ provides defense-grade secure mobile device partitions or "containers" that can secure email and contacts, calendar items, IM apps, Internet browsers, mobile file stores and other business apps provisioned on personal devices to be used in a BYOD or COPE (corporate owned personally enabled) setting. SentinelSecure protects both data at rest and data in transit through Federal Information Processing Standard or FIPS 140-2, AES 256-bit encryption.
SentinelSecure is provisioned across the SyncDog Sentinel Server, a highly extensive, flexible agent-based EMM platform with active monitoring of BlackBerry 5 and 10 servers, Good for Enterprise and Microsoft ActiveSync. Sentinel Server is a comprehensive mobility monitoring solution for managing user setup/configuration, mobile access policy, security message logging, container lock/wipe functions, inventory management and other functions critical to mobile security and compliance.
Utilizing the SyncDog Sentinel Server and the SentinelSecure container, IT administrators have the enterprise visibility to incorporate mobile device security into organizational strategies for enterprise security that includes the proper audit trails for compliance. For more information on SyncDog products please visit http://www.syncdog.com/products/.
About CTIA Super Mobility 2015
CTIA Super Mobility 2015 is the largest forum in the Western Hemisphere for the mobile innovations that power our connected life. More than 35,000 mobile professionals and executives and 1,100+ exhibitors from around the globe gather for this powerhouse technology event for its unrivaled networking opportunities and to share leading-edge trends, discoveries and knowledge. CTIA Super Mobility 2015 will be held Sept. 9, 10 & 11, 2015, at the Sands Expo and Convention Center in Las Vegas, USA. More information on CTIA Super Mobility can be found here.
About CTIA
CTIA-The Wireless Association® represents the U.S. wireless communications industry. With members from wireless carriers and their suppliers to providers and manufacturers of wireless data services and products, the association brings together a dynamic group of companies that enable consumers to lead a 21st century connected life. CTIA members benefit from its vigorous advocacy at all levels of government for policies that foster the continued innovation, investment and economic impact of America's competitive and world-leading mobile ecosystem. The association also coordinates the industry's voluntary best practices and initiatives and convenes the industry's leading wireless tradeshow. CTIA was founded in 1984 and is based in Washington, D.C. More information on CTIA can be found here.