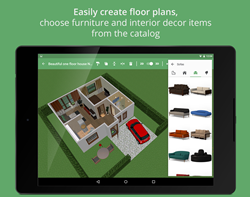 We consider there is no competition for Planner 5D in Android market since the existing apps are far from this one in terms of functionality and even the current usability for interior design and floor planning
Vilnius, Lithuania (PRWEB) July 16, 2015
Planner 5D introduces an interior design and floor planning app for Android devices built in accordance with Google guidelines.
The app was soft launched in summer 2015 in Lithuania and participated in several technology conferences soon after. A lot of feedback has been obtained which has led to complete changes in the design. The application has been improved to support smartphones and is now being released worldwide.
"We've applied the latest technologies, recommendations, and unconventional solutions. To add, there haven't been any limitations from older versions as they simply do not exist, so it's been a pure pleasure to develop everything from scratch trying to put the best and latest practices in one place. Therefore, as for now, we consider there is no competition for Planner 5D in the Android market since the existing apps are far from this one in terms of functionality and even the current usability for interior design and floor planning," said Tautvydas Andrikys, Android lead at Planner 5D.
Planner 5D is an easy to use tool that allows ordinary people around the world to create interior designs and floorplans. Most importantly the designs of Planner 5D distinguish for high quality which in other cases today is only possible using professional interior design apps; this service is inexpensive. Planner 5D is an interior design and floor planning SaaS that has more than 3.5M registered users worldwide.
A year ago Planner 5D moved from Russia to Lithuania and participated in an acceleration program of business accelerator StartupHighway. Now it's a full European company employing Lithuanian specialists.