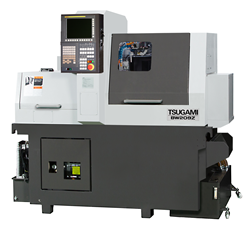 This machine is so new that only a handful of people have seen it.
Windsor, CT (PRWEB) July 16, 2015
Tsugami/Rem Sales, the exclusive North American importer of Precision Tsugami machine tools, announced today the details of its WESTEC 2015 display, which includes one machine that has never been displayed on the west coast and another that has never been seen in the United States.
The Tsugami S206-II with IMG 400LS Laser Cutting System will make its first West Coast appearance at the WESTEC show. The Tsugami "LaserSwiss" combines 6-axis Swiss machining with laser cutting on one machine, allowing manufacturers to perform Swiss turning and laser cutting operations with one setup. All operations are programmed and driven from the machine's Fanuc 32i-B control. The nozzle standoff adjustment is NC controlled, and the laser's frequency, pulse width, focus and power are all adjustable 'on the fly.'
"This machine has the potential to profoundly change the way small, tubular parts are made," Tsugami/Rem Sales Vice President Mike Mugno said. "It replaces two machines with one, eliminates the need for multiple part setups, and significantly reduces part production time."
The new Tsugami 20 mm 9-Axis BW209Z Split-Slide CNC Precision Automatic Lathe will make its U.S. debut at WESTEC. "This machine is so new that only a handful of people have seen it," Mugno said, adding that it will be shipped directly from Tsugami headquarters in Japan just in time for the show.
Other Tsugami machine tools scheduled for display at WESTEC include the B0206-II and B0326-II 6-axis Swiss Turns. The 20 mm and 32 mm machines, respectively, are both convertible, meaning they can be run as traditional sliding headstock machines with a guide bushing or as chuckers without their guide bushings.
To see live cutting demos of these machines at WESTEC, visit the Tsugami/Rem Sales booth, #1734. The show runs September 15 – 18 at the Los Angeles Convention Center in Los Angeles, CA.
Local manufacturers unable to attend the show are invited to schedule private machine tool demonstrations at the new Tsugami Technical Center in Fullerton, CA, or at Tsugami/Rem Sales' distribution partner Ellison Technologies' California facilities in Santa Fe Springs and Freemont.
About Tsugami/Rem Sales
Tsugami/Rem Sales (http://www.remsales.com) has been the exclusive North American importer of Precision Tsugami machine tools since 1978. A division of Morris Group, Inc. of Windsor, Connecticut, Rem Sales sells new Tsugami machine tools via national distribution channels and direct sales agents. The company also provides application engineering, service and customer training.
About Ellison Technologies
Ellison Technologies (http://www.ellisontechnologies.com) is the largest machine tool integrator in North America, representing 80% of the metal cutting market. With 18 locations across the U.S., Ellison is committed to the survival and growth of the manufacturing industry. In addition to distributing the latest CNC machine tool technology, Ellison provides engineering solutions, service and parts support, turnkey solutions, robotic automation and machine financing.