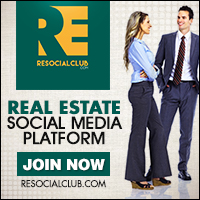 Los Angeles, CA (PRWEB) August 19, 2015
Just a day after the creation of RE Social Club was announced, the founding members have released details regarding the platform features and how they will benefit the real estate professionals using them.
"We are proud to announce a wide array of features that will not only streamline the networking process within the real estate industry, but also help to keep professionals within it up to date on the changing landscape and requirements," states Yanni Raz, one of the platform's creators. "Our goal is to leverage the convenience of social media to simplify the processes agents, lenders, and brokers use every day."
Found at http://www.resocialclub.com, the platform is mobile-friendly.
"Having a mobile-friendly platform is the key to members of our industry. After all, when was the last time you saw a real estate professional standing still?" Raz joked.
Announced Features
Platform features include an array of tools designed to maximize the usefulness of the social media outlet. These features include audio/video conference chats, file/folder and document sharing capabilities, a blogging platform to allow for the contribution of member content, property listings, a Question & Answer forum, event promotion, and a business directory designed to assist in the establishment of emerging professionals.
RE Social Club also features full integrated connectivity with other social media outlets, such as Instagram, Twitter, and Facebook.
"We needed this," Raz concluded. "One place where we can all share industry ideas, find the professionals we need, and most importantly, centralize information such as regulations and documents."
Newly launched, RE Social Club is already accepting members to its platform.
For More Information –
Any inquiries regarding RE Social Club, the platform's features, or details on how one can sign up should be directed to
Name: Yanni Raz(Founder & owner of HML investments)
Telephone: (818) 308-4443
Email: info(at)hmlinvestments.com