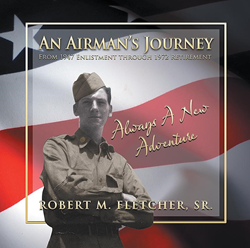 "I am pleased beyond belief at how this memoir looks and feels. His is truly 'a life well lived.' It has been my sincere personal pleasure to publish 'Always a New Adventure.'" - Robert Fletcher, SBPRA CEO
(PRWEB) July 16, 2015
"An Airman's Journey" relates the heartwarming account of 25 years' service in the U.S. Air Force, spanning post World War II years to Vietnam. Told through personal pictures and prose, this all-encompassing memoir presents the remarkable story of Robert M. Fletcher, Sr., Major USAF (ret.).
According to the author, "This book was written for my sons and their families. I feel it may be of interest to many veterans of the time periods involved. As of this writing, I am 84 years old. I'm healthy and enjoying life. I have been very fortunate. I have two successful sons with great families. I am now the oldest in my family of 13 brothers and sisters as there are only four of us left. After retiring from the Air Force, I taught at Fort Walton High School (Florida) for 23 years. I taught mostly physics, also, math, earth science, physical science, and meteorology."
For a look back at "the good old days" and at "The Greatest Generation" – a term coined by Tom Brokaw to describe those who grew up during the Great Depression and World War II – read "Always A New Adventure."
Says Robert Fletcher, CEO of Strategic Book Publishing and Rights Agency, "As the CEO and owner of a mid-sized publishing company, when my father said, 'Son, I've written my memoirs,' I shuddered, knowing what was next. At the same time, I knew I had to deliver before his 85th birthday, so the race was on. It's been an incredibly fun project and quite a family connector. I am pleased beyond belief at how this memoir looks and feels. His is truly 'a life well lived.' It has been my sincere personal pleasure to publish Always a New Adventure. And now, I have to go create his business cards and press release and set up some book signings because he wants to get out there and sell it. Go Dad, go!"
Watch the video at: https://youtu.be/77cfw3_ZO64
About the Author: From enlistment at Fort Benning, Georgia in 1947, to Las Vegas, back to Warner Robins, Georgia, to post-war Japan, Korea, Germany, and Okinawa, Robert M. Fletcher, Sr. rose through the ranks of the U.S. Air Force to proudly retire as a major with full honors. His chosen field was meteorology and he later became a high school physics teacher. He says, "As Frank Sinatra once sang, 'I Did It My Way.' "
AN AIRMAN'S JOURNEY FROM 1947 ENLISTMENT THROUGH 1972: ALWAYS A NEW ADVENTURE (ISBN: 978-1-63135-400-7) is now available for $49 and can be ordered through the publisher's website:
http://sbprabooks.com/RobertMFletcherSr or at Amazon.com or Barnesandnoble.com.
WHOLESALERS: This book is distributed by Ingram Books and other wholesale distributors. Contact your representative with the ISBN for purchase. Wholesale purchase for retailers, universities, libraries, and other organizations is also available through the publisher; please email bookorder(at)sbpra(dot)net.