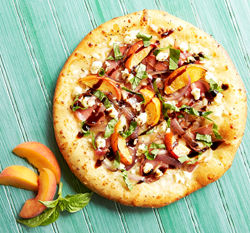 "The Pittsburgh location is the first of the Northeast expansion plan, which will be followed by a restaurant in New Jersey soon," said Matt Andrew CEO Uncle Maddio's.
Atlanta, GA (PRWEB) July 16, 2015
Atlanta-based fast-casual pizza brand Uncle Maddio's Pizza Joint is expanding by two new locations this week, on pace to open a new unit every 10 days and meet its goal of having 300 restaurants in five years.
The first of five Uncle Maddio's units in Pennsylvania opened Saturday at 1686 Route 228 Suite 150, Cranberry Township, PA in the northern Pittsburgh area, and a new unit opening this week in Smyrna, Georgia is the 14th unit for the Atlanta metro area. The new Smyrna restaurant is located at 4340 East-West Connector South Cobb Drive in the Old Ivy Village, where the store opens this Friday, July 17, with a grand opening celebration Saturday, July 18, serving free 9-inch, build-your-own, three-topping pizzas to guests in line from 11 a.m. to 2 p.m.
The Smyrna, Ga., restaurant is owned and operated by Mike and Cajgie McGaha Dickey. Mike has more than 25 years in the restaurant industry, 15 of which were spent managing restaurants for Darden. Cajgie McGaha Dickey also has a long restaurant career, working for 20 years as a general manager and in human resources for Applebee's.
Uncle Maddio's is unique among most pizza restaurants, with guests interacting with the pizza maker to customize their very own pizza with premium ingredients and crust preferences, with the assurance their customized pie will be delivered oven hot to their table in less than 8 minutes. Uncle Maddio's offers only premium ingredients and more customization than any other fast-casual pizza restaurants.
The approach to customizing quality-based pizzas and prompt at-table delivery has allowed Uncle Maddio's Pizza Joint to dominate the Atlanta-area fast-casual pizza scene and rapidly expand across the U.S. With the addition of the Pittsburg area location and the new Smyrna, GA unit, the rapidly expanding fast-casual franchiser now has 37 restaurants across 13 states. The company plans to have at least 300 locations in five years, with a focus on maintaining the successful model, food quality and fast-casual dining experience for which it has become known among diners in areas where it operates.
Uncle Maddio's continues its strong growth in the Atlanta market, with 14 units planned for the metro-area in the next 5 years. The company opened a new restaurant in Newnan in June and will open another in Loganville, Ga., later this summer.
The recently launched Pittsburgh area restaurant is owned and operated by Gino and Mali Torriero, along with partners Jake McNary and Jason Betters. Gino Torriero already owns Nello Construction and plans to put his skills to use as he builds out more units in North, South, East and West Pittsburgh. The additional Pittsburgh restaurants will open over the next few years.
About Uncle Maddio's Pizza Joint
With more than 1,000 Pizza Makers making more than 2,000,000 gourmet pizzas a year, Uncle Maddio's Pizza Joint is category leader of the create-your-own premium fast casual pizza restaurants. Operating 37 locations in 13 states, Uncle Maddio's also has more than 250 units in development.
Uncle Maddio's pizzas are customizable, made-to-order, and served up fast for about $8. Uncle Maddio's offers premium ingredients and more customization than any other fast-casual pizza chain. With four pizza sizes; three types of crusts, including gluten-free; six sauces and 48 fresh toppings, many vegan, organic, and hormone-free, Uncle Maddio's has the freshest and largest menu in the category. For those with dietary restrictions, Uncle Maddio's serves up a huge selection of healthful options such as whole wheat and gluten-free crusts, hormone-free chicken, fresh local vegetables, Daiya vegan cheese and organic greens. Create-your-own signature salads and toasted Panini sandwiches round out the Italian-style menu. The restaurants also offer a selection of craft beers and wine.
The restaurant's unique fast bake ovens offer the most throughput in the industry and can produce 200 pizzas per hour. Uncle Maddio's practices a 'Served with Love' philosophy, and its restaurant experience is for everyone — children and families, college students, the young and the young at heart — and serves the guests and communities it is a part of.
Since launching its aggressive growth plan in 2008, Uncle Maddio's has signed franchise agreements with 55 different entities in 18 states. Many of Uncle Maddio's franchisees have previous multi-unit experience with Jimmy John's, Firehouse Subs, Dairy Queen, McDonalds, Burger King, Krystal, Papa John's, Domino's, Golden Corral and Five Guys. Uncle Maddio's is on track to have 300 restaurants open in five years with 1,000 units in development and is opening units every 10 days.
Based in Atlanta, the Uncle Maddio's management team has 50 years combined experienced in the fast casual category. Markets are available nationwide for franchise partner development including Texas, Ohio, and New Jersey. For more information on Uncle Maddio's Pizza Joint, visit http://www.unclemaddios.com. Interested franchisees can visit http://www.unclemaddios.com/franchise-info/ or contact Roger Wagerman.