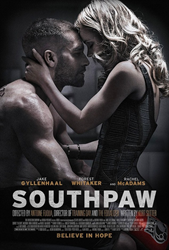 I use Monster products in my daily life, as the quality of their products is top-notch, so I'm thrilled we were able to find a way to incorporate them into my professional life, too.
Brisbane, CA (PRWEB) July 16, 2015
Monster, who has built a strong reputation in the world of sports and fitness training audio products with its innovative headphones that deliver Pure Monster Sound, is pleased to announce its partnership with The Weinstein Company (TWC) to cross promote its latest products in conjunction with the studio's feature film Southpaw. The movie stars Jake Gyllenhaal and will be released in the U.S. on July 24.
As the exclusive consumer electronics provider to this major motion picture, Monster is mounting a robust co-branded advertising campaign, featuring footage from the film and images of Monster products that will appear regularly on the G-Tron bi-directional billboard in New York City's Times Square for two months.
Southpaw tells the riveting story of Billy "The Great" Hope, reigning Light Heavyweight Boxing Champion of the World (Academy Award® nominee Jake Gyllenhaal). Billy Hope seemingly has it all with an impressive career, a loving family and a lavish lifestyle. When tragedy strikes and his lifelong manager and friend (Curtis "50 Cent" Jackson) leaves him behind, Hope hits rock bottom and turns to an unlikely savior at a run-down local gym: Tick Willis (Academy Award® winner Forest Whitaker), a retired fighter and trainer to the city's toughest amateur boxers. With his future riding on Tick's guidance and tenacity, Billy enters the hardest battle of his life as he struggles with redemption and to win back the trust of those he loves.
Head Monster Noel Lee said of the partnership: "We are very excited to have this opportunity to participate in Southpaw, a highly-anticipated movie that tells a compelling story of a man that strives to achieve at the highest level in sports. The film's widely acclaimed director, Antoine Fuqua, is also known for being very passionate about sound. We share his serious attitude towards audio quality, which is illustrated in the Pure Monster Sound we offer those with active lifestyles, from professional athletes to weekend warriors, in our diverse line of headphones."
"I use Monster products in my daily life, as the quality of their products is top-notch," said the movie's director Antoine Fuqua. "So I'm thrilled we were able to find a way to incorporate them into my professional life, too."
Monster headphones and other products will be featured in all elements of the film and its promotion, including product placement, premieres, advertising, marketing, Internet, press conferences, screenings, etc. In exchange, Monster will outfit participating retailers throughout the U.S. with engaging point-of-purchase (P.O.P.) video displays for its products that will run scenes from the film, as well as counter cards and standees featuring the likeness of Jake Gyllenhaal.
ABOUT MONSTER
For the past 35 years, Monster® has been a catalyst for innovation and big ideas. With innovation and advanced engineering, its mantra of Always Lead Never Follow has inspired the company to create some of the most exciting products in consumer electronics. Discovering that cables in hi-fi systems influenced the sound, Head Monster Noel Lee developed Monster Cable - an immediate hit. Monster® engineered and manufactured the sounds of Beats® headphones changed the world, and has since become the world's leading manufacturer of high-performance headphones, all featuring Pure Monster Sound™ technology. Today, the company offers advanced connectivity solutions for professional musicians, home entertainment, computing, mobile and gaming, as well as high performance AC Power and conditioning products. Monster® continues to lead in innovation with Monster having been granted over 500 Patents and 100 patents pending worldwide, offering more than 5,000 products in over 160 countries. Monster® also prides itself in helping those who are in less-than-fortunate circumstances through Monster Cares. Above all, Monster® does what it does Because The Music Matters.
Explore the world of Monster at http://www.monsterproducts.com. To become a fan of Monster® products, please follow us on Facebook (http://www.facebook.com/monsterproducts) or Twitter (http://www.twitter.com/monsterproducts).
Designated trademarks and brands are the property of their respective owners.
ABOUT THE WEINSTEIN COMPANY
The Weinstein Company (TWC) is a multimedia production and distribution company launched in October 2005 by Bob and Harvey Weinstein, the brothers who founded Miramax Films in 1979. TWC also encompasses Dimension Films, the genre label founded in 1993 by Bob Weinstein, which has released such popular franchises as SCREAM, SPY KIDS and SCARY MOVIE. Together TWC and Dimension Films have released a broad range of mainstream, genre and specialty films that have been commercial and critical successes. During Harvey and Bob's tenure at Miramax and TWC, they have received 341 Oscar nominations and won 81 Academy Awards.
Since 2005, TWC and Dimension Films have released such films as GRINDHOUSE; 1408; I'M NOT THERE; THE GREAT DEBATERS; VICKY CRISTINA BARCELONA; THE READER; THE ROAD; HALLOWEEN; THE PAT TILLMAN STORY; PIRANHA 3D; INGLOURIOUS BASTERDS; A SINGLE MAN; BLUE VALENTINE; THE KING'S SPEECH; THE COMPANY MEN; MIRAL; SCRE4M; SUBMARINE; DIRTY GIRL; APOLLO 18; OUR IDIOT BROTHER; I DON'T KNOW HOW SHE DOES IT; SARAH'S KEY; SPY KIDS: ALL THE TIME IN THE WORLD IN 4D; MY WEEK WITH MARILYN; THE IRON LADY; W.E.; CORIOLANUS; UNDEFEATED; THE ARTIST; BULLY; THE INTOUCHABLES; LAWLESS; KILLING THEM SOFTLY; THE MASTER; SILVER LININGS PLAYBOOK; DJANGO UNCHAINED; QUARTET; ESCAPE FROM PLANET EARTH; DARK SKIES; THE SAPPHIRES; SCARY MOVIE 5; KON-TIKI; UNFINISHED SONG; FRUITVALE STATION; LEE DANIELS' THE BUTLER; THE GRANDMASTER; SALINGER; 12-12-12; PHILOMENA; MANDELA: LONG WALK TO FREEDOM; AUGUST: OSAGE COUNTY; VAMPIRE ACADEMY; THE RAILWAY MAN; THE IMMIGRANT; YVES SAINT LAURENT; BEGIN AGAIN; THE GIVER; FRANK MILLER'S SIN CITY: A DAME TO KILL FOR; THE DISAPPEARANCE OF ELEANOR RIGBY; TRACKS; ST. VINCENT; THE IMITATION GAME; PADDINGTON and WOMAN IN GOLD. Upcoming releases include SOUTHPAW, UNDERDOGS, NO ESCAPE, THREE GENERATIONS, ADAM JONES, CAROL and THE HATEFUL EIGHT.
TWC boasts an active television production division, which garnered nine Emmy nominations in 2013 and five in 2014. TWC Television produces the reality powerhouse Project Runway, with its spin-off series Project Runway All Stars and Under The Gunn. Recent TWC television productions include Mob Wives, Million Dollar Shoppers, Rodeo Girls and Trailer Park: Welcome to Myrtle Manor. Scripted projects currently in production include John Fusco's Marco Polo for Netflix and Scream, based on the killer film franchise, for MTV. Scripted projects in development include Ten Commandments and Daniel Stashower's The Hour Of Peril. TWC also developed Nanny Diaries and produced The No. 1 Ladies' Detective Agency.
Trademarks and brands are the property of their respective owners.