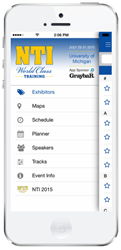 Columbia, MD (PRWEB) July 20, 2015
a2z, Inc., an event management software company based in Maryland, is pleased to present the ChirpE mobile app solution to National Joint Apprenticeship and Training Committee (NJATC) at their 26th Annual National Training Institute (NTI) – an event designed for professionals in the electrical industry. This event will take place July 25-31, 2015, in Ann Arbor, Michigan.
The a2z-powered ChirpE mobile event app provides easy access to the complete event schedule, trade show announcements, and social media posts – all in real-time and synced with the event website – offering an enhanced experience.
The ChirpE mobile app offers attendees many features to meet their training goals. App users can search for sessions by keywords or categories and view session details. An attendee can then use the Personalized Planner to build an itinerary of their preferred sessions and take notes using the My Notes feature within the app. In addition, attendees can use the planner to select exhibitors that they want to meet on the trade show floor and use the interactive floor plan to easily navigate to their booth locations – all of which are accessible within the mobile app. The NTI 2015 mobile event app is available for iPhone/iPad and Android phones as well as all Internet-enabled smart phones.
The National Training Institute is a week-long event of training offering a variety of educational and training opportunities to meet the rapidly changing demands of the electrical industry. NTI will offer sessions that cover the most current technical training from a variety of subjects critical to the industry. The event will also focus on advancing the knowledge of the instructional staff that trains electrical workers of various levels of experience. In addition, the tradeshow will feature exhibitors showcasing the latest products and services for the industry.
For more information about the conference, please visit nti.njatc.org
About a2z
a2z, Inc. provides powerful web-based event management tools that grow your show by increasing and accelerating booth sales, helping boost revenue, and enhancing engagement and value for everyone. a2z, Inc. powers more than 850 leading events every year. To fulfill our goal of developing quality solutions that help save money and meet your needs, a2z offers three platforms as one integrated solution: Expo & Conference Management, Networking & Lead Management, and ChirpE Mobile, which includes our web-based and native mobile apps for smart phone and tablet devices.
About NJATC
The Electrical Training Alliance was created from the legacy of the National Joint Apprenticeship and Training Committee (NJATC). The NJATC was founded in 1941 by the National Electrical Contractors Association (NECA) and the International Brotherhood of Electrical Workers (IBEW) and served for over 73 years as the training arm of the IBEW and NECA. The Electrical Training Alliance is a nonprofit organization that draws upon an extraordinary number of diverse partnerships within the electrical industry, all committed and devoted to training the next generation of electrical workers. The Electrical Training Alliance consists of 300 joint apprenticeship and training centers in the United States and Canada, over 100 electrical industry manufacturer's and training partners and a vast network of public and private educational institutions from secondary school level to the university level.