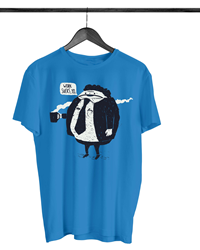 London, United Kingdom (PRWEB UK) 17 July 2015
UK's giant retailer of funny t-shirts , Artokingo, released their plans of offering new t-shirt styles. Artokingo will be offering rolled sleeve, scooped neck, baseball and raw edge t-shirts by the end of July, 2015. The brand is currently selling v-neck and crew neck t-shirts only. Artokingo is famous with their soft, 100% organic cotton t-shirts. The good news is that the company confirms that new t-shirts will also be made from 100% organic cotton like their current t-shirts.
Artokingo has gained popularity within people who love fashionable t-shirts with a twist. With their new t-shirt types, the brand aims to attract more audience. The company is currently selling almost three hundred cool t-shirts designed by elite artists from around the world. Their fans cannot wait to see those cool t-shirt designs on new type of t-shirts.
What differs Artokingo from the competition?
Artokingo is the UK's first and only artwear brand who combines art and fashionable t-shirt. Firstly, in opposition to their global competitors such as Threadless, Redbubble UK and Society6, Artokingo never prints on cheap blanks. Their t-shirts are 100% organic cotton made and printed in the UK. Second, Artokingo is collaborating with a select group of artists only. The company refuses to work with every designer in order to offer the most unique selection of t-shirts in the world. Third, the company pays the best artist royalties on the planet. An artist gets £3 per each t-shirt sold. Lastly, they offer free UK delivery and free returns on all orders.
The company is also showcasing feedbacks and reviews given by real customers. Reviews confirm how Artokingo is successful in their field:
"This is the first time I have ordered from Artokingo and I have to say I was very impressed at the vast array and quality of the choices on offer. They have defintely chosen some great artists to work with. As for this particular t-shirt, what can I say; great cool design, unique and has more than meets the eye at first glance. Looks great. Quality t-shirt too and the print does not feel as though its going to come off in the first wash. I will definitely be ordering from artokingo again," said by their customer Chris T.