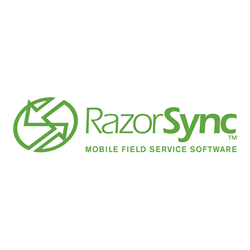 Our clients are smart business owners and they shop around for the best rates on card processing, but it's the cost savings they realize by eliminating administrative time that really surprises them
Minneapolis, MN (PRWEB) July 21, 2015
RazorSync, the award-winning, cloud-based desktop and mobile software app, today announced an upgrade to the software which improves client's cash flow by making it easy to create invoices and accept customer payments on the jobsite using their mobile phone or tablet.
With the launch of RazorSync version 5.0, businesses who use the software to process mobile payments receive the best rate possible on credit card processing and are able to connect invoices and payments made at the job site directly with their customer data. Credit card payments are processed on-the-spot with a small, portable credit card reader which plugs directly into a phone, iPad or other tablet. RazorSync even shows the payment as posted in their QuickBooks Online accounts.
"Our clients are smart business owners and they shop around for the best rates on card processing, but it's the cost savings they realize by eliminating administrative time that really surprises them," said Christopher Rywelski, President and Co-Founder of RazorSync. "Everyday we talk to owners and office managers at all types of service businesses, from HVAC to lawncare to computer services, who tell us they've eliminated hours of administrative work each week. They simply no longer spend time running weekly invoices, or reconciling invoices in QuickBooks because RazorSync now does it for them."
"Our typical customer reports saving more than 15 hours of office time each week," Rywelski added. "By automating the task, speeding the cash flow cycle and eliminating paperwork, RazorSync 5.0 creates more time that owners can spend growing their revenue instead of handling administrative work."
Additional RazorSync features
RazorSync allows businesses to generate invoices from the jobsite, attaching photos, videos, and customer signatures, while automatically updating customer records in QuickBooks and QuickBooks online. Business owners are also able to track employee travel time, standard service hours, and overtime, and attribute to a job automatically.
RazorSync v5.0 is available as an upgrade for existing and trial customers at no charge. New customers are eligible for a 30-day trial. After the trial period, the regular monthly fee is $19.95 per user per month with no contracts and no hidden fees.
About RazorSync
RazorSync, LLC, headquartered in Minneapolis, MN, is the market leader of field service software designed specifically for small and medium service businesses. RazorSync Mobile Field Service Management software, http://www.razorsync.com, is a powerful, easy-to-use and low-cost cloud-based desktop and mobile software solution that facilitates business management and interaction among team members in the office, field technicians and customers. The web app can be accessed from any browser on a desktop, laptop or tablet computer and runs on any iOS or Android tablet or smartphone. For more information about RazorSync, please visit http://www.razorsync.com.
FOR IMMEDIATE RELEASE
Click here to download release and images
Contact: Joy Schmelzer
(612) 617-4324