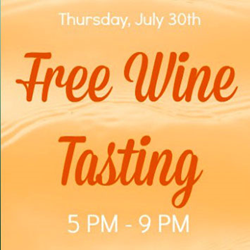 The new, improved wine list has been paired with our outstanding cuisine for an improved experience for all of our customers
Montville, NJ (PRWEB) July 21, 2015
The Montville Inn would like to announce a complimentary Wine Tasting Event on Thursday, July 30th from 5 – 9 pm. To close out the current "July is Wine Month", The Montville Inn will unveil a new wine list, giving guests at this event the rare opportunity to sample wines off the bottle list.
The Wine Tasting will take place on the inn's beautiful wrap-around porch. The event will take place rain or shine and will feature a variety of great wines and delicious passed appetizers.
Vendors will sample well-known wines such as The Prisoner, Stags' Leap, Beringer, Napa Cellars and Cakebread, among many others. Knowledgable wine purveyors will be present to share and explain the new offerings, and wines will also be available for purchase by the glass or bottle. Light fare will be provided, but guests are encouraged to make reservations and stay for dinner.
"As the Owner of The Montville Inn, I am very proud to continue to improve all aspects of this Classic and Historic Inn," said Nelligan. "The new, improved wine list has been paired with our outstanding cuisine for an improved experience for all of our customers. It is one of the many improvements and additions we have made over the past few months."
Reservations for the event are encouraged, and guests can make them by visiting the website and clicking on "Events" or visiting the Event Registration Page. Those who register online will automatically sign up to receive a free Montville Inn engraved wine glass and coaster, which they will take home at the end of the event.
For questions, please call 973-541-1234 or email Jennifer(at)TheMontvilleInn(dot)com.
About The Montville Inn
The Montville Inn is a neighborhood restaurant where guests can enjoy everything from relaxed, family meals to date nights or even business meetings. The unique comfort food and fresh, creative specials offer something for everyone. Complete with a wrap-around porch, gorgeous copper bar, two private dining rooms, and a cozy main dining area, whose decor features historic photos of Montville Township and the surrounding area. It is the pride of owner TJ Nelligan, a long-time resident of Montville, whose family has been here for generations. Nelligan was inducted into the Montville High School Hall of Fame in 2004 and was named Montville Township Citizen of the Year in 2004.