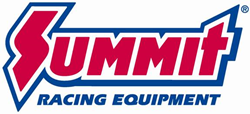 Tallmadge, OH (PRWEB) July 20, 2015
Camping can be a lot more fun—and a lot more comfortable—with the right gear. Summit Racing now offers BaseCamp Outdoor Gear—portable stoves, fire starters, and even refrigerator-freezers that take some of the rough out of roughing it.
Fire Starter
The BaseCamp Fire Starter is the world's only fire starting device that can be used thousands of times without being replaced. It works in all weather conditions including rain, snow, and wind, and can be used with lighter fluid, denatured alcohol, and citronella. This video shows how the Fire Starter works.
Angle Iron Camp Stove
This angle iron camp stove is a simple, basic food cooker. It's more durable than its cast iron counterparts and delivers 15,000 BTUs of heat. The single-burner stove has a range-style top to raise the cooking vessel above the frame and is fed by a propane cylinder. The adjustable legs maintain a level cooking surface when outside. Other features include a welded frame, thicker gas manifold system, and a corrosion-resistant brass valve. A regulator and hose are required, not included.
Summit Racing also carries two- and three-burner stainless steel camp stoves that use one pound propane cylinders and fold up for easy transport.
Refrigerator-Freezer
This refrigerator-freezer \ can operate as either a freezer (maintaining temperatures from 0-32 degrees F) or a refrigerator (temperatures above 33 degrees F) and has a remote wireless readout showing internal temperature, battery voltage, and condition. The refrigerator-freezer has a durable stainless steel exterior and an aluminum interior with 50mm of polyurethane insulation in between. It can run off a vehicle's 12 volt system or a 120 volt AC generator. It's available in 42 or 63 quart capacities.
Mammoth Folding Chair
This chair is both ginormous and comfortable. Even better, it's made for outdoor use thanks to a rust-resistant aluminum frame and thick double-walled arm and leg connectors. The chair can support up to 300 pounds and has a padded headrest and a mesh back for comfort. A storage bag is included.
Summit Racing Equipment
http://www.SummitRacing.com
1-800-230-3030