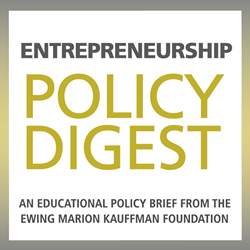 Kansas City, Mo. (PRWEB) July 20, 2015
While the number of women entering the workforce has significantly increased over several decades, they are still half as likely as men to start a business. According to the most recent Entrepreneurship Policy Digest released today by the Kauffman Foundation, the lack of women entrepreneurs is not just a gender issue, it's an economic issue.
The Policy Digest highlights the skillsets of women that make them great entrepreneurs and explains barriers they face when starting a business. Research shows a lack of female mentors, challenges to maintaining work-life balance and an implicit bias against women as entrepreneurs as major obstacles.
The Digest offers the following suggestions to help more women become successful:
-Develop and report entrepreneurial program metrics by gender to better understand what works best for women entrepreneurs
-Increase the number of women represented in entrepreneurship programs to expand access to female mentors
-Partner with women's professional organizations to increase awareness of Small Business Innovation Research awards
-Celebrate successful women entrepreneurs to counter the false narrative that only men are successful entrepreneurs
-Decrease the risk of becoming an entrepreneur by offering policies that can help alleviate pressures and risks facing women entrepreneurs
The Kauffman Foundation's Policy Digests consist of summaries of findings around relevant policy issues that will inform and educate policymakers. To read the entire Policy Digest on women entrepreneurs and to sign up to receive subsequent Digests, go to http://www.kauffman.org/policydigest.
About the Kauffman Foundation
The Ewing Marion Kauffman Foundation is a private, nonpartisan foundation that aims to foster economic independence by advancing educational achievement and entrepreneurial success. Founded by late entrepreneur and philanthropist Ewing Marion Kauffman, the Foundation is based in Kansas City, Mo., and has approximately $2 billion in assets. For more information, visit http://www.kauffman.org.