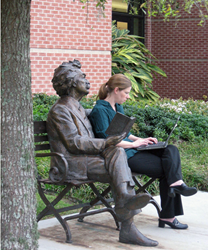 We now immediately see where traffic is coming from...the applications being used & by which users, devices and locations--on a second-by-second basis. We've also gained a lot more control...which ensures every user gets great applications performance
Sunnyvale, CA (PRWEB) July 22, 2015
With thousands of users a day accessing Wi-Fi, downloading videos, using social media and hundreds of other applications on your network at their convenience, is it really possible to avoid application stalls and crashes and provide great network performance to all users? Fort Bend County Libraries (FBCL) has been able to address this challenge by gaining a much more detailed, real-time view and increased control of traffic on their network by using Saisei's Network Performance Enforcement (NPE) software.
Rivaling many hotels, retail and other businesses with far bigger budgets and IT staffs, Fort Bend County Libraries (FBCL) serves more than 3,000 daily visitors every summer, who use its wide-area network to access Wi-Fi, stream videos, download e-books and music, and do online research. At the same time, the network supports 200 staff members who run its 11 libraries in the Houston, Texas, metro area. Its users access the network from a range of mobile devices and computers. To maintain its services and funding, it's critical for FBCL to offer a very high-quality, fast and reliable customer experience.
"Over the past few years, especially during the summer months when library attendance reaches extreme peaks, our network became extremely congested. We were getting calls that the network was crawling…and we didn't know why," said Raymond Miranda, Network Specialist at FBCL.
"We already had a Network Flow analyzer on the network, but it only gave us a little bit of visibility, nothing in-depth to understand which traffic was causing the congestion, where it was coming from, and how to fix it. We didn't have the budget to keep buying more bandwidth to accommodate traffic peaks. And we wanted more control of the network, not just to better manage our network congestion but to put user, application and device policy controls in place and to protect against security breaches as well. It's really a balancing act – giving users open access to go anywhere on the web while providing a secure environment and meeting our internal staff's needs," said Miranda.
Increased Visibility, Control and Security Ensure Peak Applications Performance and Protection
FBCL's managed service provider suggested that the library use Saisei's FlowCommand software, which provides visibility and control on thousands of applications and millions of devices on a sub-second, per-flow basis across a hybrid enterprise. FBCL deployed FlowCommand on the edge of its network, in front of the routers and switches and behind the firewalls. The hub-and-spoke network connects its 11 branches to the main branch office, which provides access to different core services. The main branch gets 100Mb of bandwidth from the service provider, which is then dispersed among the branches depending on their size.
"FlowCommand gives us great visibility and control, and also does an excellent job of augmenting the security on our network because we can see so much more. From the dashboard, we can now immediately see where traffic is coming from – and can really hone in on, for example, the top 25 applications being used and by which users, devices and locations – on a second-by-second basis. We've also gained a lot more control by using the software's host equalization capability, which ensures every user has equal access to our local Wi-Fi networks and gets great applications performance, regardless of how many users are on the network or what applications they are running," said Miranda.
"No one else out there offers a solution that can do all this," Miranda stated. "We now have in place a solution that ensures good application performance for every user on the network, even as network traffic continues to increase by more than 20%. Users are not affected. The applications are running so much better than they did in the past, and we have all the protection we need for our staff and customers' data."
Lelia Warner, Technology Communications Supervisor at FBCL, added, "The Saisei software has really helped decrease the time necessary to figure out what's going on on the network, saved a lot of staff time troubleshooting, and provided an easier and much quicker solution for us. We get virtually no user complaints these days, and it's making it possible for us to add more programs that use the network to enhance learning and collaboration in our community."
About Saisei
Saisei is a Sunnyvale, California-based software company that is revolutionizing network analysis and control for the challenges that mobility, cloud, SDN, NFV, and the Internet of Things are bringing to networks today. Its scalable, real-time Network Performance Enforcement software solutions provide the speed and smarts needed to instantly analyze and enforce policy on the millions of applications, users, and devices populating networks today. Enterprises and service providers can now use their full network bandwidth knowing that unexpected traffic surges are automatically accommodated and all user traffic will get through even the busiest of network links with no dropped sessions, resulting in dramatic savings, accelerated revenue growth and a great user experience. Learn more at http://www.saisei.com. Connect with Saisei: Twitter (@SaiseiNetworks), LinkedIn and Facebook.
# # #