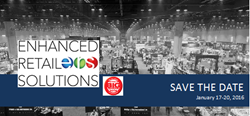 What better way to gain exposure to retailers than to expand our presence at the NRF Show - David Matsil, President of Business Development at Enhanced Retail Solutions
New York, NY (PRWEB) July 21, 2015
Enhanced Retail Solutions (ERS), a top provider of consulting and software solutions to the retail industry and their suppliers for use in analyzing their products' retail sales and trends as well as improving inventory productivity has announced its decision to Exhibit at the NRF Big Show in January.
While ERS' mission has been to serve suppliers to retail, over the last five years, retailers themselves – some the largest of their kind – have come to us to help their business. For instance:

ERS is directly involved with both retailers' and their vendor's planners to derive the most accurate forecasts, achieve the highest instock percentages and facilitate the most successful launches ever.
ERS was also engaged by a top five retailer to help them with advanced Retail Analytics for their Private Brands, leading to an engagement to develop a customized program for their Sourcing Division.
ERS has been deeply involved with door level replenishment at certain retailers, helping them measure, anticipate and replenish stock.
Several retailers have purchased ERS' Retail Primer, a guide written to help suppliers understand the retail business.
Seeing their boutique consulting and portfolio of customizable software to be most relevant to the retail sector, the company decided to commit to a Booth at the upcoming show. The EXPO will be open on Sunday, January 17 from 10am-3pm. It will also be open Monday, January 18 and Tuesday, January 19 from 9am-5pm.
"What better way to gain exposure to retailers than to expand our presence at the NRF Show," says David Matsil, President of Business Development at Enhanced Retail Solutions, "Their EXPO is a showcase for the industry's most innovative technologies."
About Enhanced Retail Solutions LLC:
Enhanced Retail Solutions is a New York based software and consulting firm specializing in Retail Analysis and Demand Planning for the manufacturer, their retail partners and licensors. ERS' state of the art software tools and consulting deliver critical data quickly, easily and cost effectively, adding over one hundred million dollars to their clients' bottom line. ERS' broad customer base includes industry leaders in the electronics, consumer products, apparel, footwear, home textile, toy, home décor, home improvement, housewares, jewelry and food industries. For more information, visit http://www.EnhancedRetailSolutions.com.