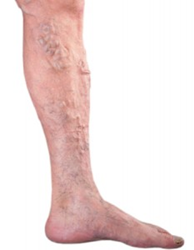 The Polish patients I see have far more advanced disease.
Chicago, IL (PRWEB) July 22, 2015
For Chicago's Polish population, varicose veins aren't just unsightly; they can be a serious health threat. In 2013 researchers reported severe varicose veins are 20% more common in Poland than in any Western European country. Chicago vein experts say they're seeing the same trend among immigrants, so they are launching an awareness campaign aimed at Polish and Hispanic patients with vein disease.
"The Polish patients I see have far more advanced disease," says Ramon Castro M.D. Dr. Castro, a Diplomate of the American Board of Venous and Lymphatic Medicine, who is Medical Director of the Chicago Vein Care Center. The Chicago vascular doctor sees many Polish patients in his practice. "They're much more likely to have much larger bulging varicosities, swelling, chronic ulcers, and life-threatening blood clots."
Dr. Castro says cultural and economic factors have created a "perfect storm" of vein problems in the Polish community.
"Every possible risk comes together," says Dr. Castro, "Poles have a genetic tendency to varicose veins and they often work in the fields or one their feet. In addition, their national health care system pays for arterial problems but not vein problems. Patients don't get treated and by the time they seek treatment in this country, their vein disease is quite advanced."
After arriving in America, many Polish immigrants avoid seeking help from a Chicago vein treatment center. They mistakenly think the only treatment is "vein stripping." They don't realize that painful surgery (involving tying off and stripping engorged veins) has been largely replaced by laser and other near painless office procedures that take just minutes. These include endovenous laser ablation, ultrasound guided foam sclerotherapy, surface laser, and ambulatory microphlebectomy.
The price for delaying Chicago varicose vein treatment is high. Dr. Castro says, "Many Polish patients suffer enormous swelling and pain, their jobs are threatened, and their daily activities are limited. And on top of it all, there are needless medical expenses."
Dr. Castro's clinic also sees large numbers of Hispanic patients with advanced disease. Their varicose veins can be particularly dangerous due to the area's high rates of obesity and diabetes. This is particularly true among Mexican-Americans. Dr. Castro says, "Those illnesses put them at especially high risk of Deep Vein Thrombosis, which can lead to a pulmonary embolism."
He continues, "What's needed for these populations is education. We have to teach patients the symptoms of varicose veins, why the problem can be dangerous, the new nearly painless ways to treat the problem, and the need for early care."
The Chicago vein treatment center is launching an active outreach program to spread these messages to the immigrant population. The clinic offers free monthly community screenings, distributes publications, and stresses education on its web site and social media.
Dr. Castro has also adapted to the unique challenges of treating patients with advanced medical (as opposed to cosmetic) vein disease. The surgeon has learned to penetrate their severely fibrous sclerotic vessels and navigate a laser through bulging vessels.
The Chicago vein specialist says reversing such severe disease is especially rewarding. In a few minutes he can resolve problems that have tormented patients for decades. Dr. Castro is pleased to be able to bring state-of-the-art techniques to patients who've spent a lifetime denied quality care in their own countries.