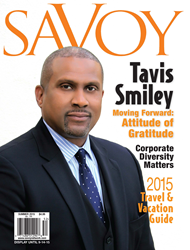 Savoy magazine is proud to showcase the corporations that are leading the way in Diversity & Inclusion through their leadership. - L.P. Green, II
Atlanta, GA (PRWEB) July 21, 2015
With the release of their Summer Issue, Savoy magazine focuses on Corporate Diversity Matters, a special feature that showcases the nation's leading executives responsible for diversity & inclusion. As the nation's workforce becomes more diverse, select corporations are advancing progress significantly with their commitment.
"We're proud to showcase the corporations that are leading the way in Diversity & Inclusion through their leadership," said L.P. Green, II, publisher of Savoy Magazine. "As the workforce continues to grow more diverse, it's critical that leading corporations cultivate and maintain a culture of inclusiveness. We're proud to showcase the leadership of these leading companies in the latest issue of Savoy."
To view the full listing of the corporations recognized in the Savoy Corporate Diversity Matters issue, visit http://savoynetwork.com/corporate-diversity-matters-2015.
The new issue of Savoy also features an exclusive interview and cover story on Tavis Smiley, television and radio host, intellectual and author. He shares his winning strategy of "Adopting an Attitude of Gratitude" that has led to two of his recent book projects being picked up for film production. Smiley's book on Dr. Martin L. King's final years of life has been picked up by J.J. Abrams for a mini-series television production project. This issue also features the 2015 Travel & Vacation Guide.
Savoy also announced the launch of their new mobile app for the magazine that is available now on Google Play and will be available on iTunes soon. The new Savoy app is free and compatible with mobile or tablet devices. Within the app you can view the latest stories from SavoyNetwork.com free or subscribe and download the latest issue or sign up for an annual subscription.
About Savoy
Savoy Magazine is a national publication covering the power, substance and style of African American lifestyle. From entertainment to sports, business to politics, design to style, Savoy is a cultural catalyst for the African-American community that showcases and drives positive dialogue on and about Black culture. Savoy is published quarterly and distributed via subscriptions and newsstands worldwide. Look for the new Savoy app available for Android devices now and iOS coming soon.
For media inquiries please contact:
Catrina L. Young
Chief Communications Officer
Phone: 404 -841-7019/Fax: 404 841-7919