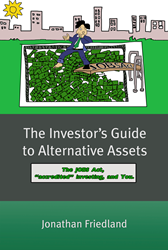 Chicago, IL (PRWEB) July 22, 2015
You recently learned that you are an "accredited investor" and therefore can invest in "alternative assets." Perhaps all you know is this has something to do with the "JOBS Act." Or maybe you're currently considering making an angel investment or investing in a PPM, or in a PE, VC, hedge or other private investment fund.
Just because you can invest in alternative assets, however, doesn't mean you should.
Before you make any investment, you should take the time to understand it. "The Investor's Guide to Alternative Assets: The JOBS Act, "accredited" investing, and You" will help you do that by providing clear and concise explanations about what it means to be an accredited investor, what the potential risks and rewards are of investing in alternative assets, and how to actually go about it in a smart way, if you conclude you want to. Explanations are clear and simple, and are written for someone with no experience investing in alternative assets.
Most investors in the United States invest in publicly traded stocks, bonds, and mutual funds; some exposure to income producing real estate is also fairly common. This is the "mix" or "asset allocation" that has been generally recommended by investment advisors for decades in order to achieve proper diversification, with the percentages allocated to each determined largely based on an investor's age.
Accredited investors, however, have a range of other assets- alternative assets- available to them. These include angel investments, private placements, and private investment funds (including, venture capital, private equity, and hedge funds), as well as other private investment vehicles that invest in a wide variety of underlying "hard" assets.
"The Investor's Guide to Alternative Assets: The JOBS Act, "accredited" investing, and You" recently reclaimed top spot in the "Securities" category in the Amazon Kindle Bookstore. It was also recently ranked the #1 book about crowdfunding by Crowdbeat.
Chapters include overviews of angel investing and venture capital, private equity, hedge funds, and so-called "hard assets." An introduction to crowdfunding is included to help you decide whether investing via a crowdfunding portal is for you. Other topics discussed include the JOBS Act itself; "alternative mutual funds," and a host of others that will arm you with the information you need in order to make educated investment decisions.
Financial Poise provides unbiased news, continuing education, and intelligence to private business owners, executives, investors, and their trusted advisors. Jonathan Friedland, a partner with Levenfeld Pearlstein, is the author of four books.