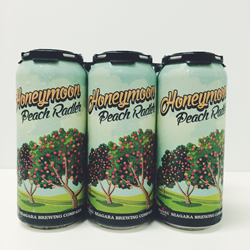 Niagara Falls, ON (PRWEB) July 23, 2015
The Honeymoon Peach Radler is Niagara Brewing Company's unique and thirst-quenching craft beer tribute to the newlywed visitors of Niagara Falls who have helped earn it the title of Honeymoon Capital of the World, and the region's delicious locally-grown peaches, which are currently in season.
"Our Honeymoon Peach Radler is a light and refreshing beer that is perfect for enjoying on a hot summer's day. We've strayed from the normal citrus-based soda that is common in radlers and added hints of peach and ginger to give it a pleasantly sweet finish. Guests can enjoy it on tap, in cans, or in growlers and we're very excited to add it to our lineup of exclusive Niagara Brewing Company beers," says Sarah Vazquez, Vice President of Business Development and Marketing at Falls Avenue Resort.
Guests can take the Honeymoon Peach Radler home with them in 473mL cans or 32oz and 64oz growlers. When visiting Niagara Brewing Company, guests can also experience special rotating and seasonal brews, a delicious Niagara-inspired tasting menu, live entertainment on the outdoor patio, and purchase Niagara Brewing Company beer and merchandise at the on-site store. The brewery is a part of the 20-acre Falls Avenue Resort and is connected to a number of Niagara's top dining, accommodation, and entertainment destinations.
About Niagara Brewing Company:
Niagara Brewing Company is a brand new craft brewery on Clifton Hill in Niagara Falls, Ontario that offers a number of exclusive and seasonal brews that celebrate Canada's brewing heritage and Niagara's burgeoning craft beer scene. For more information, please visit http://www.niagarabrewingcompany.com.