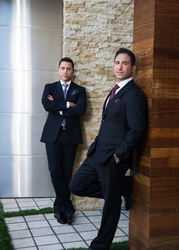 (PRWEB) July 23, 2015
Josh and Matthew Altman of The Altman Brothers, licensed real estate agents in the Hollywood, California, market, have joined the prestigious Haute Living Real Estate Network.
The Haute Living Real Estate Network (HLRN) of Hauteresidence.com is proud to recognize Josh and Matthew Altman as prominent and award-winning real estate professionals and the network's newest partners. HLRN unites a distinguished collective of leading real estate agents and brokers, highlighting the most extravagant properties in leading markets around the globe for affluent buyers, sellers and real estate enthusiasts.
About The Altman Brothers:
Josh and Matthew Altman of The Altman Brothers are among the top producing real estate agents in the country having sold over one and a half billion dollars in real estate. Josh and Matt Altman managed to carve out a niche in the West Los Angeles market. This includes staking claim to top tinsel town turf in what is known as the Platinum Triangle (Beverly Hills, Bel-Air, and Holmby Hills) along with the famous Sunset Strip and Hollywood Hills.
Together they have seasoned experience and ability to foster solid relationships. The Altman Brothers are full-service real estate experts who strive to service the entire spectrum of exclusive clients Los Angeles has to offer. Altman clients are luxury buyers and high-end sellers, from entertainers, professional athletes, and high-net-worth individuals whose real estate holdings dot the globe to clients with small family homes and short-sale needs.
Their uncompromising professionalism and dogged drive have yielded unheard of rapid rise to success in their niche real estate market, crowning the pair as esteemed professionals whose boldface reputation has been given a great amount of ink in national media outlets, including The Wall Street Journal, Yahoo! Finance, and the Los Angeles Times. The brothers' business savvy drew Hollywood producers to cast Josh Altman in a starring role on the hit Bravo television show Million Dollar Listing.
To learn more, visit The Altman Brothers' Haute Residence profile: http://www.hauteresidence.com/member/josh-and-matthew-altman-the-altman-brothers
About Haute Living Real Estate Network (HLRN):
Haute Living Real Estate Network (HLRN) of Hauteresidence.com offers readers the most prominent directory of experienced realtors, brokers and luxury listings, and HLRN has grown to be the number one source for real estate news, residential developments, celebrity real estate news and more. Seeking an experienced interior designer? Hauteresidence.com is also home to Haute Design Network (HDN), a collective of celebrated interior designers that will help you decorate your new home or stage an active listing.
Access all of this information and more by visiting: http://www.hauteresidence.com