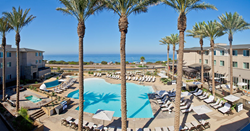 Carlsbad, Calif. (PRWEB) July 23, 2015
In the height of summer, Cape Rey Carlsbad, a Hilton Resort is welcoming guests with a new name and a new vibe. Following a hotel-wide rebranding effort, Cape Rey focuses on the authentic Southern California beach lifestyle, delivering the prime location, adventurous spirit and luxurious simplicity that today's traveler seeks.
"Our property is a beachfront basecamp for Southern California adventures. Guests can experience the best of our laidback lifestyle, relaxed-meets-refined service, comfortable luxury and the benefits of our continued affiliation with the Hilton brand," said General Manager Vikram Sood. "As the only upscale resort situated directly along North San Diego County's coastline, the Cape Rey name helps us to better position the actual hotel experience."
The name "Cape Rey" was inspired by the resort's physical location and proximity to the San Luis Rey River Valley region. "Rey," Spanish for "king," provides a sense of prominence, while "Cape" ties in the hotel's sweeping coastal vistas and authentic seaside locale.
"This new sense of place more accurately reflects the historic legacy of the region and a sense of personal adventure," says Sood. "It also gives us greater freedom to create and shape unique, locally-inspired guest activities and signature events that are as distinctive as the property."
Beyond the name, the bulk of the rebranding effort will manifest in the experiential aspects of each guest's stay. Creative itineraries, excursions and partnerships from the new "Leisure Services Team" introduce guests – both on property and off – to the tastes, places, products and personalities that speak to the surrounding beach lifestyle and provide the type of immersive hospitality the modern traveler craves. Employees act as property ambassadors, whose expertise in everything from surf spots to taco shops provides guests with a backstage pass to all things local and Southern California-cool.
Subtle updates to the hotel's physical spaces act as a conduit to the brand by emphasizing location through art, landscape and design. To encourage a stream of activity and help guests connect with each other and the resort's ocean vistas, Cape Rey is featuring more defined social spaces at the pool, in the lobby and at Chandler's Restaurant and Lounge. The re-styled pool area includes new private cabanas, updated cushions and services that focus on laidback luxury. Outdoor dining and gathering areas have been expanded to create casual gathering spots inviting travelers to easily kick back, relax and enjoy the view. Debuting in the fall will be several luxury suites, each inspired by local lifestyle companies including Reef and Nixon.
Meetings, weddings, dining and spa all have a new Cape Rey flavor as well. The resort's "Private Events" team will operate with an emphasis on intuitive service, bespoke menus and a shift toward sustainable offerings and amenities. Couples getting married at Cape Rey can ensure a distinctive, customized event with the "Uniquely Yours at Cape Rey" initiative. Ocean Crest Spa complements hotel activities with treatments and services derived from natural, organic and local products, and will be teaming up with area businesses for elevated health, fitness and nutrition opportunities. Finally, Chandler's will focus on partnerships with local brew masters, vintners and food experts to celebrate the region's culinary bounty. New offerings such as beach picnics and summer bonfires feed the adventurous spirit of the Cape Rey guest.
"Cape Rey is about more than a resort; it's a lifestyle," said Eric Stein, creative director for Neu Citizen, the Los Angeles-based company tapped to help with the rebranding. "Meet at the Cape, dine at the Cape, get married at the Cape — we see Cape Rey becoming synonymous with the best of Carlsbad beach life."
To learn more about Cape Rey, visit http://www.CapeRey.com.
About Cape Rey Carlsbad, A Hilton Resort
Located along the sunny San Diego coast directly across from Carlsbad State Beach, the 215-room Cape Rey boasts a modern, California Craftsman-style design with breathtaking views of the Pacific Ocean. Opened in June 2012, this North San Diego luxury hotel was honored with the AAA Four Diamond distinction in 2013. Guests of Cape Rey enjoy the best of the beach communities' lifestyle. On property amenities include the sea-inspired Ocean Crest Spa, an expansive, ocean view swimming pool and Chandler's Restaurant & Lounge, a stylish restaurant where guests can enjoy fresh, regional cuisine and stunning views. The perfect basecamp for exploring Southern California, Cape Rey provides easy access to the beaches, parks, shopping and dining in Carlsbad, Leucadia, Encinitas and Oceanside. Just 30 minutes north of San Diego, Cape Rey is minutes away from LEGOLAND California, Sea World, the San Diego Zoo, the San Diego Zoo Safari Park, Disneyland California and a variety of other fun attractions. Visit http://www.CapeRey.com for more information.
###