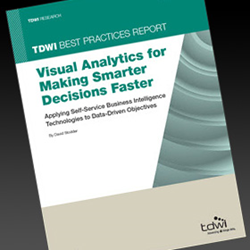 Business users today want to move past the limits of spreadsheets and canned business intelligence reporting to gain a richer, more personalized experience with data.
Seattle, WA (PRWEB) July 23, 2015
TDWI Research announces the release of its newest Best Practices Report, Visual Analytics for Making Smarter Decisions Faster. This original, survey-based research examines enterprise experiences with business intelligence, visual analytics, and visual data discovery to uncover how organizations can make users more productive with data and use technology to improve collaboration.
"Business users today want to move past the limits of spreadsheets and canned business intelligence reporting to gain a richer, more personalized experience with data," notes David Stodder, author of the report. "Along with easier data exploration, users are seeking to increase the depth and frequency of their data analysis. Rather than just consume data, they ask questions, try different views and approaches, build predictive models, and more."
The report advises that the best approach to expanding the audience for self-service visual analytics will be balanced and well-managed, and will include data governance. The TDWI research finds that responsibility for data governance, long regarded as solely that of IT, must be shared by business users to avoid pitfalls such as inconsistent data security and quality.
By combining analytics with more sophisticated data visualization tools—visual analytics—users can become more productive with data by using software to integrate data analysis capabilities with graphical ways of expressing information.
Report Highlights
This comprehensive report looks at visual analytics from many angles and discusses:

How successful users are using visual analytics tools in their duties, from slicing-and-dicing data to identifying data patterns, performing ad hoc data discovery, and using newer chart types (such as heat maps)
User experiences and satisfaction with tools and functionality
Mobile BI and visual analytics
Business benefits of the technology
New technologies, such as self-service visual analytics tools and applications, in-memory computing, and self-service data preparation technologies and solutions
User interaction with diverse data, including Hadoop and NoSQL data sources
The need for data governance
Business/IT collaboration
Stodder explores modern trends in visual analytics use and plans, the role of visual analytics in decision management, and ten recommendations for getting the most from visual analytics.
This research was sponsored by IBM, Information Builders, Oracle, Qlik, SAP, SAS, Tableau Software, and TIBCO Spotfire.
About the Author
David Stodder is director of TDWI Research for business intelligence. He focuses on providing research-based insight and best practices for organizations implementing BI, analytics, performance management, data discovery, data visualization, and related technologies and methods. He is the author of TDWI Best Practices Reports and Checklist Reports on data discovery, data visualization, customer analytics in the age of social media, BI/DW agility, mobile BI, and information management. He has chaired TDWI conferences on BI agility and big data analytics. Stodder has provided thought leadership on BI, information management, and IT management for over two decades. He has served as vice president and research director with Ventana Research, and he was the founding chief editor of Intelligent Enterprise, where he served as editorial director for nine years. You can reach him at dstodder@tdwi.org.
About TDWI
For 20 years, TDWI has provided individuals and teams with a comprehensive portfolio of business and technical education and research about all things data. The in-depth, best-practices-based knowledge TDWI offers can be quickly applied to develop world-class talent across your organization's business and IT functions to enhance analytical, data-driven decision making and performance. TDWI advances the art and science of realizing business value from data by providing an objective forum where industry experts, solution providers, and practitioners can explore and enhance data competencies, practices, and technologies. TDWI offers five major conferences as well as topical seminars, onsite education, membership, certification, live Webinars, resourceful publications, industry news, and in-depth research. See tdwi.org or follow us on Twitter @TDWI.
About 1105 Media
1105 Media, Inc., is a leading provider of integrated information and media in targeted business-to-business markets, including specialized sectors of the information technology community; industrial health, safety, and compliance; security; environmental protection; and home healthcare. 1105's offerings span print and online magazines, journals, and newsletters; seminars, conferences, and trade shows; training courseware; and Web-based services. 1105 Media is based in Chatsworth, CA, with offices throughout the United States.
###