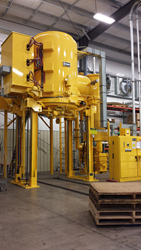 WILLIAMSPORT, Pa. (PRWEB) July 30, 2015
To expand its range of capabilities in the aerospace, energy, and commercial food and beverage markets, PMF Industries has added a new, vertical-loading vacuum furnace that is able to heat treat flowformed shafts and other metal parts up to 80 inches in length. PMF also is using the new vertical-loading furnace to heat treat other aerospace engine parts such as combuster cases, diffusers, seals and bearing sets. In addition, PMF will be using its new furnace capability for heat treating components for the energy sector, such as combustor cases and diffusers used in ground-based turbine systems and cylinders used in the commercial food and beverage industry.
Flowforming provides one of the best and most economical methods of producing hollow, symmetrical shafts for many industries. Flowforming is a cold-extrusion, metal-forming process that produces seamless, high-precision, rotationally symmetrical cylindrical, conical, or contoured shapes. The process offers design flexibility and has the ability to produce complex, near-net-shaped components from preforms or blanks, resulting in significant material savings and dramatically lower costs than other metal-forming techniques. Many flowformed parts subsequently undergo heat treating to provide them with additional material properties or physical features required of the finished component.
Flowformed and machined shafts must be heat treated vertically rather than horizontally to ensure that they remain straight throughout the thermal process. Although PMF's capabilities have long included the heat treatment of flowformed parts and products produced through other metal processing techniques, all of the company's previously existing furnaces feature horizontal loading and only are able to accommodate heat treating of shafts of up to 34 inches in a vertical condition.
PMF's new vacuum heat treatment system provides a clean manufacturing environment that offers uniform cooling and features a 46" x 80", all-graphite hot zone with a 6,000-lb load capacity. It provides gas cooling to 2-bar, absolute pressure and operates at temperatures of 1,000° to 2400° F (538 °C to 1,316 °C).
Since 1961, PMF Industries (pmfind.com) has been a pioneer in the development of the flowforming process by continually expanding their expertise and capabilities in metal forming and fabrication allowing them to serve a wide array of industries: Aerospace, Environmental, Food/Beverage, Defense, Filtration, Medical, Nuclear, Pharmaceutical and Power Generation. PMF continuously develops proprietary manufacturing processes as a result of in-house research and collaboration with research organizations in the U.S. and Europe to develop new technologies. PMF offers concept to completion manufacturing with engineering consultation across a broad range of manufacturing capabilities, including flowforming, rotoforming, electromagnetic forming, hydroforming, laser cutting, machining, heat treating, press forming and others.