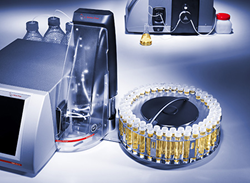 Ashland, Virginia (PRWEB) July 29, 2015
The new Xsample 530 sample changer for vials can be used with Anton Paar density meters, viscometers and refractometer. It handles a wide range of liquid viscosities – from less than 12,000 mPas (internal air) up to 36,000 (external air) – and can process up to 71 samples in 12 mL vials.
What immediately catches the eye about Xsample 530 is its removable magazine, which is easily lifted off its hub and carried by hand to wherever the user wants to fill it. Once in place, the magazine can be freely rotated for filling in place then the system positions the magazine correctly without requiring any initialization. An optional bar code reader can be put in place for sample identification and traceable results.
Another plus is Xsample 530's cleaning concept – the sample changer comes with various pre-programmed cleaning modes, like a more complex expert mode which allows for flexible adjustment to users' individual needs. Three different rinsing agents can be connected for customized cleaning based on multiple combinations. This extended cleaning capability is an essential "insurance coverage" for the wide range of diverse samples, including challenging highly viscous materials, optionally handled using Xsample 530.
To eliminate this risk of loose connections and leaks from the start, Xsample 530 detects whether the pressure source is at its expected level and runs automatic tightness tests. The instrument's robustness is ensured by a highly linear fluid diagram, mechanical components of uncompromising quality and an exceptional resistance to aggressive chemicals. Simply put, Xsample 530 is built for decades of around-the-clock operation, at very little downtime.
Xsample 530 operates based on a combination of filling principles, depending on the sample and viscosity at hand. A piston pump applies soft pressure to force the sample into the measuring cell. If this takes too long, the internal pump of the master device is activated. In case of highly viscous samples, there is also the possibility of using compressed external air at 2 bar. Users can manually define the pressure source, or they can let the system chose it automatically.
Carefully developed based on more than a decade of experience in automatic sample handling, Xsample 530 is versatile, user-friendly and reliable enough to give laboratory staff a real break – and functions as a highly efficient cost-saver.