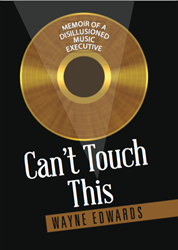 I wrote Can't Touch This to expose readers to the music industry from a perspective that is rarely written about –that being through the eyes of a senior level black male executive
Bronx, NY (PRWEB) July 27, 2015
Have you ever wondered what it would be like to work with a music phenomenon like Michael Jackson, Marvin Gaye, or M.C. Hammer? If you were Wayne Edwards, you would know. As someone who isn't a stranger to the music industry, Edwards is finally speaking out about his years of experience in his new memoir, Can't Touch This: Memoir of a Disillusioned Music Executive.
As a past vice president at Capitol Records, director of marketing at Columbia Records and also product manager for CBS Records, Edwards is nothing short of brilliant. Not only did he spend time in the music industry, but Edwards also found himself in media relations for record companies and public relation firms.
"I wrote Can't Touch This to expose readers to the music industry from a perspective that is rarely written about –that being through the eyes of a senior level black male executive," Edwards said.
In Can't Touch This, readers will follow the personal journey of Edwards, an African American executive who was challenged by an industry that thrived on inequality. Despite the numerous hours and hard work, color seemed to become a barrier as he grew in status.
"It's my attempt to share the good, the bad, and the ugly of one black man's journey through an industry he naively though was tailor-made for his skill set," Edwards said.
Can't Touch This: Memoir of a Disillusioned Music Executive is a captivating story that speaks of fascinating truths from a successful African American man. With focusing on topics such as racial inequality and social marginalization, Can't Touch This will inspire and encourage readers to never settle short for something they deserve.
Can't Touch This
By: Wayne Edwards
ISBN: 978-1-50490-595-4
Available in softcover, hardcover, e-book
Available on Amazon, Barnes & Noble and AuthorHouse
About the author
Edwards is a man of many things. Not only has he worked for multiple record companies, but he also holds a doctorate degree in sociology from City University of New York. He now serves as vice president for student affairs at State University of New York's College at Old Westbury. Edwards and his wife, Jeanne, live in New York City. They are the proud parents of a son and four daughters.
For review copies or interview requests, contact:
Katie Wenclewicz
317.602.7137
kwenclewicz(at)bohlsengroup(dot)com