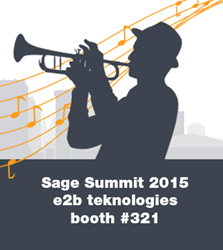 Sage has put together a fantastic lineup of speakers and educational opportunities for attendees, and we very much look forward to connecting with our customers and peers on the expo floor
Chardon, Ohio (PRWEB) July 27, 2015
e2b teknologies, a Sage Software developer and Sage ERP consulting firm, today announced their sponsorship of Sage Summit 2015, the annual conference for Sage customers and partners, to be held this week at the Ernest N. Morial Convention Center in New Orleans, Louisiana where e2b teknologies representatives will be available in booth #321 from July 27-30, 2015.
As a Sage Gold Development partner, e2b teknologies will showcase the company's flagship product, Anytime Collect, cloud-based accounts receivable management automation software; Anytime 500, manufacturing and distribution add-ons for Sage 500 ERP; as well as custom ERP software development and business application integration services. Having been named to the Sage America President's Circle for the 2013-2014 business year as well as a Sage Gold Development Partner of the Year for 2013, e2b teknologies has been recognized numerous times by the Sage North America for its excellence in installation, development and support of Sage 100 ERP, Sage 500 ERP, Sage ERP X3, and Sage CRM.
In addition to being a bronze sponsor of Sage Summit, e2b teknologies is also a silver sponsor of THEevent at Sage Summit, a networking event hosted by several Independent Software Vendors that integrate with Sage ERP to enhance the end-user experience. THEevent is scheduled to take place on Monday, July 27, 2015 at Pat O'Brien's on the River in New Orleans.
"We exhibit at Sage Summit every year, but we are especially excited about this year's event," said Lynne Henslee, president of e2b teknologies. "Sage has put together a fantastic lineup of speakers and educational opportunities for attendees, and we very much look forward to connecting with our customers and peers on the expo floor and at THEevent to discuss the latest ERP trends, solutions, and integrations available for the Sage user community."
Additional information and representatives of e2b teknologies will be available at the expo in booth #321 from Tuesday, July 28 at 9:30am (CT) until the show closes on Thursday, July 30th at 4:00pm (CT) to answer questions and provide additional information about the company's products and services.
About Anytime Collect:
Anytime Collect (http://www.anytimecollect.com), published by e2b teknologies, is a leading cloud-based accounts receivables management system integrated to leading ERP accounting systems to help companies get paid faster. Anytime Collect is designed specifically for businesses selling to other businesses on credit terms to streamline and automate the entire accounts receivable credit and collections process with a return on investment in as little as two months.
About e2b teknologies:
e2b teknologies (http://www.e2btek.com) is a passionate and experienced team of industry leaders and business advisers providing high quality, uncomplicated, and innovative ERP and CRM software built on modern technology platforms with turn-key consulting and custom development services. e2b teknologies develops custom cloud-based business applications and provides development and integration services for leading ERP accounting software, CRM, and other enterprise business software applications including Sage 100 ERP, Sage 500 ERP, Sage ERP X3, Epicor ERP, Anytime Collect accounts receivable management software, and more.