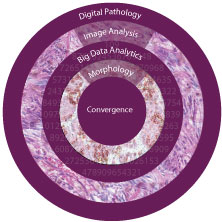 Indianapolis, Indiana (PRWEB) July 27, 2015
Take advantage of the Early Bird rate and register today for the Digital Pathology Association's (DPA) annual conference, Pathology Visions. The DPA, a non-profit organization that promotes education and awareness of digital pathology applications, will be hosting Pathology Visions at the Westin Boston Waterfront in Boston, Massachusetts on October 11 – 13, 2015.
Register by July 31, 2015 and receive $200 off your conference registration. To register for Pathology Visions 2015, click here. Become a member of the DPA and save an additional $200 off your registration! Click here to join.
The Pathology Visions Conference gives attendees the opportunity to learn about real-world, practical applications in the ever-evolving field of digital pathology through a variety of workshops, educational sessions, abstract presentations and much more. Someone who knows the value and benefit of Pathology Visions firsthand is the Keynote Presenter for Pathology Visions 2015, Dr. Richard Friedberg.
In addition to holding positions at Baystate Health, Baystate Reference Laboratories and Tufts University School of Medicine, Dr. Friedberg is President-Elect of the College of American Pathologists (CAP). At Baystate Health, Dr. Friedberg leads a hybrid academic/private practice group of 21 pathologists and a regional reference laboratory with more than 500 FTEs, providing exclusive diagnostic services to 5 hospitals, 3300 providers, and numerous nursing homes, which generate over 50,000 surgical specimens, 60,000 cytology specimens, and 6 million laboratory tests. To learn more about Dr. Friedberg, click here.
Pathology Visions incorporates the latest findings in digital pathology through oral presentations and workshops separated into three tracks – Education/Research, Clinical, and Image Analysis. Pathology Visions 2015 attendees have the opportunity to earn up to 11 Continuing Medical Education (CME) Credits at this year's conference. To view the full agenda, click here.
Additionally, attendees will be able to learn more about recent findings in the field by perusing the poster presentations. Submissions for poster presentations will be accepted through July 31, 2015. For more information, click here.
About the Digital Pathology Association
The Digital Pathology Association, located in Indianapolis, IN, was founded in 2009. Its mission is to facilitate education and awareness of digital pathology applications in healthcare and life sciences. Members will be encouraged to share best practices and promote the use of technology among colleagues in order to demonstrate efficiencies, awareness, and its ultimate benefits to patient care. To learn more about the DPA and Pathology Visions, click here.