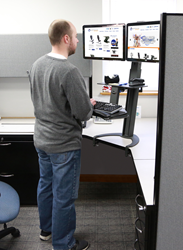 Mobility, improved productivity, lower employer healthcare costs and higher worker on-the-job energy are key benefits that HealthPostures offers its clients.
Burnsville MN (PRWEB) July 29, 2015
Established ergonomics Sit to Stand products designer, HealthPostures, announces that it is taking on Ergostore Online as one of its new dealers. Mobility, improved productivity, lower employer healthcare costs and higher worker on-the-job energy are key benefits that HealthPostures offers its clients, which range from government agencies to call centers to major corporations to healthcare facilities.
Per Joshua Camden of Ergostore Online, the ergonomics company decided to become a HealthPostures dealer due to customer requests. Specifically, Camden says that, "We just added new items to our product line. A lot of our customers are asking for sit to stand desks." Camden explains that, "Instead of replacing their current desks, companies can purchase HealthPostures' ergonomics equipment that fits atop their desks."
When asked how ergonomics is changing America's work environment, Camden reveals that, "As we watch the corporate structure of America begin to shift away from manual labor into the office environment, we have seen obesity increase. Ergonomics is helping to keep employees healthier. Ergonomics is helping employers to take better care of the people who work for them. It's also helping to keep healthcare costs for employers down."
Ergostore Online is a 25 year old company that revolutionizes the way that Americans work by offering an array of freestanding workplace solutions. Should HealthPostures and Ergostore Online's new dealership relationship improve the health of America's workers; the firms will increase profitability organically.
Both HealthPostures and Ergostore Online deliver ergonomics equipment right to their clients. Customers and major brands the workplace solutions companies have worked with include Coca Cola, CNN, American Express and Cisco.
Injuries and musculoskeletal conditions that HealthPostures and Ergostore Online products are designed to help alleviate include Carpal Tunnel Syndrome, severe headaches and neck and back pain. All of HealthPostures' products are made in the United States. Through its expanded dealership, HealthPostures can introduce its ergonomics solutions to more Fortune 500 firms, educational organizations, industrial centers, healthcare organizations and government agencies.
About HealthPostures
HealthPostures LLC (https://healthpostures.com) specializes in the design, development and manufacturing of workplace safety ergonomics products and equipment. For nearly 20 years, the company has built the equipment that is helping people to stay healthy while they work. The firm has developed pioneering ergonomic sit stand solutions since 1996. A key mission of HealthPostures' is to "strive to provide quality products that will help transform your sedentary life so you have a healthy way to work." Office solutions sit stand products Health Postures designs and manufactures include dual monitor sit stand work stations, adjustable mouse stands, dual monitor arm accessories, Stance move seat extensions, industrial surface Taskmates and Stance Move chairs.
Contact:
HealthPostures LLC
14310 Ewing Avenue South, Suite 100
Burnsville, MN 55306
800-277-1841
https://healthpostures.com
About Ergostore Online
Ergostore Online was founded by Patty Englebaugh in 1993. Today the company is managed by Camden Retail Enterprises. Purpose of the company has always been to offer custom workplace solutions that improve people's efficiency and health. In addition to selling ergonomics solutions, the company installs computer accessories and office furniture. Types of products that Ergostore Online stocks and sells include LCD monitor mounts, CPU holders, keyboard trays, chairs, printer covers, adjustable tables and sit to stand workstations.
Contact:
Ergostore Online
103 Schoolside Drive, Suite 125
Rock Hill, SC 29730
877-524-3894
https://www.ergostoreonline.com/