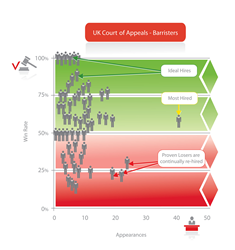 "General counsels typically hire based on prestige rather than results, because the results haven't been readily available... many emperors have no clothes." - Ian Dodd, UK Director, Premonition
London, United Kingdom (PRWEB UK) 30 July 2015
An American start-up described as the 'Moneyball of legal analytics' has completed a three-year study of British court cases showing no correlation whatsoever between popularity or re-hiring and win rates.
At present, corporates and consumers have no way of choosing a lawyer based on how successful they are, relying instead on reputation and recommendations.
Premonition, a big data analytics company, used artificial intelligence to review 11,647 cases In Britain between 2012 and 2014 to produce the first ever ranking of barristers and law firms by win rate.
The company, based in Miami, wants to increase transparency so that lawyers are hired based on their success – rather than league tables created without any foundation. By allowing companies to study trends, win rates and to potentially see which lawyers succeed with particular judges, Premonition says that evidence-based decision-making will be possible for the first time.
The report found that:

Law firms' selection of barristers is negatively correlated with their win rates. A barrister with twice the performance of a peer is 37.9% less likely to be hired.
Around 18% negative correlation between law firm selection and performance.
Michael Fordham Q.C. and Phillippa Kaufman Q.C. tied for overall first place with 11 straight High Court wins each.
Solicitors, Hewitsons LLP were found to be the best High Courts law firm with 8 appearances and an 88% win rate.
Premonition found that 51 barristers had records of five or more straight wins in the High Courts for the period from 35 chambers were named by the study. Premonition did not name runners up or any sub-par performers.
The 72-page report contains scatter charts of firm and barrister performance in individual courts as well as overall performance.
It is available as a free download at their website http://www.LosingIsExpensive.com , which claims their service is "a very, very unfair advantage in litigation."
Toby Unwin, Chief Innovation Officer at Premonition, said:
"The aim of this report is to educate, not embarrass. Win rates are here and they're the new standard. Most law firm league tables simply record earnings and employees. Lawyer lists are no measure whatsoever of effectiveness.
"Of course there will be some grey areas around individual wins and losses and some will argue that companies only take on hard or easy cases. However, given the massive sample size included here, we believe such issues are effectively ironed out offering the most in-depth study ever of the British legal system."
Ian Dodd, UK Director at Premonition, said:
"General counsels typically hire based on prestige rather than results, because the results haven't been readily available. When you look at the data, many emperors have no clothes. Just as in other sectors, big data means people have nowhere to hide and many will agree that the legal industry is ripe for disruption – it needs to become way more efficient and transparency does that."
Richard Burcher, Managing Director at, international legal pricing consultants, Validatum, said:
"Premonition could herald a legal revolution in the UK. It has the capacity to completely recalibrate the way in which clients hire legal professionals and legal professionals instruct each other."
Contact:
Ian Dodd
UK Director
Premonition LLC
07766 365 412
id(at)premonition(dot)ai
Report download: https://www.dropbox.com/s/60j75jezaloudw6/UK%20High%20Courts%202014%20-s.pdf?dl=0