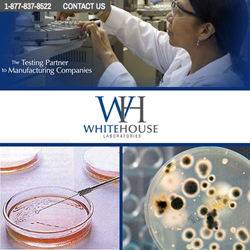 The addition of micro testing services will offer our clients a comprehensive testing service that includes all facets of testing required for product approval and enhances and supports the extensive raw material testing services we currently offer
New York, NY (PRWEB) July 30, 2015
As part of its 2015 growth plan and as a follow up to the recently announced expansion of its raw material and technical service business units, Whitehouse Laboratories is pleased to announce that it has begun construction on a new Microbiological Laboratory. The new stand-alone facility will be adjacent to the Container Center of Excellence and will be strictly dedicated to basic USP 51, USP 61, and USP 62 testing specific to raw materials. It is expected that construction of the facility will span approximately three months in order to meet the strict GMP requirements for FDA regulated, GMP testing to take place. All key pieces of equipment to include state of the art incubators, ovens, and fume hoods have been purchased and are awaiting formal install. Executive management expects the facility to be fully operational by end of Q4 2015.
"Based upon client demand and need for a 'one-stop-shop' approach when it comes to outsourced testing, we felt the addition of micro testing was the logical next step in our growth and expansion program" said Mark Stier, COO of Whitehouse Labs. "The addition of micro testing services will offer our clients a comprehensive testing service that includes all facets (chemistry and microbiological) of testing required for product approval and enhances and supports the extensive raw material testing services we currently offer. This expansion will also mean the creation of additional New Jersey based jobs."
The USP 61 product safety testing is required to ensure that a product's preparation complies with a pre-set specification for microbiological quality. The test is similar to an aerobic plate count assay, as it determines if a product is contaminated with bacteria or fungi. In a similar function, USP 62 testing evaluates for specific pathogens including S. aureus, P. aeruginosa, E. coli, Salmonella species, Clostrididia species, fungal organisms, and a qualitative MPN for bile-tolerant gram negative bacteria. USP 51 is a preservative effectiveness test that is commonly required for raw materials used in the production of drug products.
About Whitehouse Laboratories
The Testing Partner to Manufacturing Companies, Whitehouse Labs is an FDA regulated, DEA Licensed, ISO 17025 and ISTA certified contract service provider to the pharmaceutical, medical device, personal and consumer product industries. Whitehouse Laboratories offers analytical services for the testing of materials, finished products, container and package systems that enable our clients to meet and exceed the required quality standards established by the key regulatory agencies.