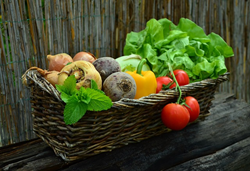 There's nothing more satisfying than caring for a garden that provides healthy, organic vegetables.
Millville, NJ (PRWEB) July 30, 2015
Homegrown vegetables take meals to a whole new level. Espoma Organic wants to know what fans are creating with their backyard summer harvests during the "Garden to Table" photo contest.
Food lovers across the country can enter Espoma's Facebook contest for a chance to win one of three prizes from July 30 through August 12, 2015.
To enter, contestants should like Espoma on Facebook, click on the contest tab and post a picture of their homegrown fruit and veggies with a description of how they will be used for dinner. Or share a picture of the finished dish.
Then, contestants should share the link with friends and family and encourage them to vote with a "like." Three finalists will be determined through an evaluation of the most "Liked" photos.
"We want to know what gardeners are cooking with their harvests," says Jeremy Brunner, Espoma vice president. "Here's an opportunity to turn green thumbs into 'green' prizes."
Espoma Organic will award three prizes. The first place photo entry will receive a $100 gift card, second place will receive a $50 gift card and the third place winner will receive a gift set of Espoma Organic Potting Mix, Tomato-tone and Garden-tone.
Full contest details and rules are available on Espoma's "Garden to Table" contest tab.
"There's nothing more satisfying than caring for a garden that provides healthy, organic vegetables," says Brunner. "We want our fans to share their success stories."
Espoma fans who aren't kitchen savvy can still participate in the contest by voting for their favorite dishes. All are welcome to participate and encouraged to share posts with family, friends and coworkers.
The "Garden to Table" photo contest ends at 9:30 a.m. EST on Wednesday, Aug. 12 and the winners will be announced by 5:00 p.m.
The Espoma Company has been the pioneer in natural gardening solutions since 1929. Espoma provides an extensive selection of natural products that work in harmony with nature and are safe for people, pets and the planet. The company produces more than 100 products to cover the nutritional needs of plants and to grow beautiful lawns and gardens. Visit espoma.com for more information and tips about organic lawn care.