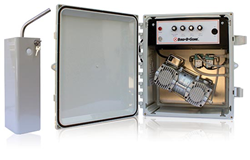 Designed to disperse pest birds where other methods of bird control are ether ineffective or impractical.
Irvine, CA (PRWEB) July 30, 2015
Bird B Gone, the leader in bird control products for commercial, industrial and residential applications offers a new bird hazing system to repel pest birds from the AC units and ventilation systems on hospital roofs. Bird droppings can carry any of 60 diseases—including histoplasmosis, encephalitis, salmonella, meningitis, and toxoplasmosis, even the West Nile virus. When these droppings dry, the fine powder can be carried into hospitals via AC and other ventilation systems. This contaminated air carries not only disease but spores that can negatively affect patients with weakened immune systems.
Designed to disperse pest birds where other methods of bird control are ether ineffective or impractical, Bird B Gone's bird-hazing system releases a light vapor of EcoBird 4.0. Made with Methyl Anthranilate, a non-toxic, EPA approved food-grade ingredient, the solution irritates a bird's mucous membranes. When pest birds pass through the fine mist, it creates an unpleasant sensation that will force them to avoid the area. The repellent effect is only temporary and will not injure birds.
Bird B Gone's Bird Hazer comes with a 1-liter tank and uses considerably less liquid repellent than other hazing units. The haze deployed is extremely fine, with a particle size smaller than one micron, which allows the bird repellent to remain airborne longer. The hazer's multi-head unit ensures wide coverage. Each central unit controls as many as six satellite units for complete perimeter coverage of the roof.  The plug-n-spray hazer is easy to install and operate. An informative installation video, setup consultation, and full support are included with every unit. The hazer's rugged weatherproof design makes it ideal for use outdoors, and the unit is fully backed by a one-year manufacturer's warranty.
Bird Hazing can also be highly effective in removing pest birds from large enclosed to semi-enclosed areas, including overhangs, docks, warehouses, aircraft hangars and plant nurseries. It has been proven particularly effective for removing small birds, especially sparrows.
Bird B Gone is the world's largest manufacturer and distributor of bird control products, providing effective and humane solutions to a bird-free environment. The company provides advice; training and installation services for those who need help with these and other bird control measures. For the complete line of products from Bird B Gone, call 1-800-392-6915; fax: 949-472-3116 or visit our website at http://www.birdbgone.com, e-mail: nobirds(at)birdbgone(dot)com.