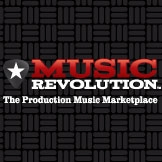 "With over 40,000 tracks of high-quality royalty-free music online, MusicRevolution.com is one of the most comprehensive production music libraries available anywhere," stated Chris Cardell
Trumbull, CT (PRWEB) July 30, 2015
MusicRevolution.com (http://www.musicrevolution.com), an online marketplace for royalty-free music, today announced that its production music library now has more than 40,000 tracks of royalty-free music.
"With over 40,000 tracks of high-quality royalty-free music online, MusicRevolution.com is one of the most comprehensive production music libraries available anywhere. We have the royalty-free music to meet every music buyer's needs. And new music is constantly being uploaded to the site," stated Chris Cardell, Co-Founder of MusicRevolution.com. "Media producers, video producers, filmmakers, advertisers, music supervisors and other music buyers are able to search and purchase the latest and best royalty-free music for affordable prices at MusicRevolution.com," added Cardell.
"With over 40,000 tracks online and growing, MusicRevolution.com is one of the largest production music libraries in the world. We thank the hundreds of professional musicians from around the world who have helped us accomplish this significant milestone. The quality and depth of our musicians and music is outstanding," stated Mike Bielenberg, Co-Founder of MusicRevolution.com. "The next time you need royalty-free music for a media project, go to http://www.musicrevolution.com and use our intuitive 'Advanced Search' function to find the music you need or send us a message and we'll be pleased to help you with your music search. MusicRevolution.com can also help you to find the right musician for any style and genre of music to meet your custom music production needs without breaking your budget," added Bielenberg.
MusicRevolution's royalty-free music library covers every genre and style of music, including: On Hold, Fun, New Age, Rock, Comedy, Corporate, Drama, Energetic, Orchestral/Classical, Christmas/Holiday, Acoustic Guitar, Hip Hop, Retail, Sentimental, Advertising, Electronica, Country, Jazz, Piano and Vocals.
About MusicRevolution.com
MusicRevolution (http://www.musicrevolution.com) is the Internet's royalty-free music marketplace. We provide media producers, video producers, music supervisors, filmmakers, game developers, businesses and other music buyers with some of the best royalty-free production, or stock, music at affordable prices for TV/radio broadcast, film, documentaries, online video ads, corporate video, retail & website background music, legal music for YouTube, on-hold music, video games, sizzle reels and other business music applications. Our production music library has over 40,000 high-quality tracks and new royalty-free music is being added every day. MusicRevolution.com offers four purchase options for customers-- single tracks, CDs, subscriptions and our Internet music stream for background music in retail stores and other commercial settings. MusicRevolution.com also provides custom music production and custom music streams. The entire MusicRevolution.com production music library is available for third-party distribution and bulk licensing for background music for retail, restaurants, hotels and businesses, and for other commercial applications. As an online marketplace, Music Revolution provides professional and aspiring musicians with the opportunity to license their production music while learning from and collaborating with the best in the music community.