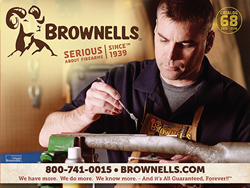 Anybody who's into guns really needs to get their own personal copy of Catalog #68.
Grinnell, Iowa (PRWEB) August 04, 2015
Brownells' famous "Big Book"– officially known as Catalog #68 – is now available to gunsmiths, gun builders, firearm owners, enthusiasts, collectors and armorers everywhere.
Laid out in Brownells' signature horizontal format, this year's catalog spans 696 pages and is chock-full of more than 33,000 items. Those items are divided into 34 color-coded categories, making specific products easy to find.
Among the more than 2,400 new items featured are dozens of Brownells-branded products including bolt/carrier groups, AR-style magazines and gunsmithing tools.
Other categories in the catalog featuring significant new additions include the handgun sections with dozens of new holsters, and the Emergency & Survival Gear (ESG) section. The ESG section now covers eight pages, with more than 30 new products making their debut, including Brownells ESG Essentials kits combining lots of survival gear into convenient, pre-assembled packages.
"I'm awfully proud of our new Catalog #68," said Frank Brownell, Chairman of Brownells. "It's the first big catalog we've produced with our new branding and tagline, 'Serious About Firearms Since 1939.' It takes just a quick look through a few pages to see how truly serious we are about firearms. Anybody who's into guns really needs to get their own personal copy of Catalog #68 to check out all the goodies and gear, and stay current on all the extraordinary items available to improve your shooting skills and increase your pleasure in your shooting experiences."
Customers can request their own copy by visiting the catalog section of Brownells.com, or by calling 800-741-0015.
About Brownells
Serious About Firearms Since 1939™, Brownells is the world's leading source for gun parts and accessories, ammunition, gunsmithing tools, survival gear and archery. With a large selection of both common and hard-to-find items, and an extensive collection of videos, articles, and gun schematics, Brownells is the expert for everything shooting-related. Committed to maintaining our great traditions, Brownells has more, does more and knows more – and guarantees it all, Forever. For more information or to place an order, call 800-741-0015 or visit brownells.com. Stay up-to-date with Brownells on Facebook, Twitter and Instagram.