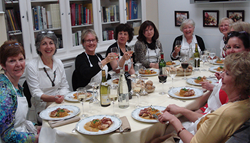 A solid retirement plan will account for the remaining years of who's likely to be the longer-living member of the couple
Cherry Hill NJ (PRWEB) July 31, 2015
"Unfortunately, many retirement plans don't address women's needs – including what would happen if their spouse passed away. For instance, women often plan for the same period of time as men, even though they're likely to live longer," explained Meyer. "That's not it, either. Women have different concerns, needs and goals than men. Their decisions can also be influenced by work, family and the timing of their partner's retirement."
That makes planning a joint responsibility, Meyer added.
"If you're building a retirement plan with your partner, you should plan for the future together. However, you should also account for your retirement years as individuals. That will help you stay financially secure if you're separated," Meyer said. "A solid retirement plan will account for the remaining years of who's likely to be the longer-living member of the couple."
Meyer also offered additional tips for helping women achieve a secure retirement:

Build a support network of family members, friends, and professional assistants
Make decisions about defined employee benefit plan options with your partner
Consider any important life decisions in terms of how they will affect retirement security, including starting a new job, leaving current employment or getting married or divorced
Determine all future expenses (healthcare costs, long-term care expenses, living costs) and any risks or potential factors which can increase them
Exercise caution if you're withdrawing from retirement funds to help a loved one or friend
Evaluate different investment options which can offer financial security but also appropriate levels of investment risk.
These and other insights can be found at: http://safemoney.com/. There, visitors can access information on annuities, life insurance, Social Security benefits, cash balance plans, IRAs, estate planning and long-term care insurance. A free, comprehensive guidebook on annuities and retirement planning is also available.
As president and co-founder of Safe Money Resource, Meyer stresses the value of an informed investor.
"Many financial products are available. But they're not all equal in terms of the value they can offer you. It ultimately depends on your unique financial situation, circumstances, and goals," said Meyer. "We want you to feel secure about any financial decisions you make about your retirement. Education is the first step toward doing so."
Safe Money Resource represents a small network of independent financial professionals. Licensed annuity experts as well as independent agents, they offer a wide product selection from more than 40 major insurance companies.
On a local level, Safe Money Resource also offers "Safe Money Approved" advisors—a comprehensive list of professionals who have been carefully vetted for strong ethics, integrity and financial expertise. Further information is available at: http://safemoney.com/local-advice/find-an-advisor.