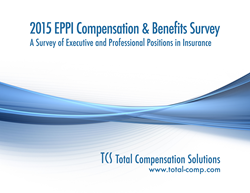 the Federal government is considering the implementation of broad supervisory powers that could impact executive compensation.
Armonk, NY (PRWEB) August 03, 2015
In spite of increased regulation, pay trends for the insurance industry continue to rise. Most insurance companies are actually increasing their employees' pay at a faster rate than observed in general industry. According to the 2015 Executive and Professional Positions in Insurance Compensation Survey (EPPI) a study released today by Total Compensation Solutions (TCS), a leading compensation and benefits consulting firm focused on insurance industry pay practices, salary budgets in this industry are increasing at an accelerated pace. The concern at the company level is the potential for employee defections to other companies as the economy improves. As a result, these companies are offering their employees higher annual salary increases; market-oriented base salaries; and generous bonuses related to individual and company performance.
While these increases are being offered, the Federal government is considering the implementation of broad supervisory powers that could impact executive compensation. Using the Dodd-Frank Act as the authorizing basis, the government is starting to question how large, international insurance companies set pay at the highest level in their respective organizations. The rules that currently apply to banks and other financial institutions may soon be used for the insurance industry.
"The Federal government is increasing its supervision of the industry and insurance companies are now being lumped in with banks" according to Tom Bailey, project director for this study. Bailey cites that the Financial Modernization Act of 1999 allowed banks, security firms, and insurance companies to affiliate and adds: "We're now seeing the impact of this affiliation, where all three of these industry sectors are being treated equally in terms of regulation as well as pay".
The 2015 EPPI Survey (Executive and Professional Positions in Insurance) is a compilation of pay data and personnel policies for over 300 insurance companies of diverse size and lines-of-business. It is the result of advanced research on the insurance industry and a valuable tool for Boards of Directors and Executives who lead these companies and who set pay for insurance industry executives, middle managers and professional staff.
The EPPI survey compiles information from companies in several business lines (property and casualty, workers' compensation, and professional liability) located throughout the U.S. The survey relates pay to asset size; premium volume; and geographic location illustrating the differentials based on these three factors.
The EPPI survey also compiles and reports on Board of Directors compensation. TCS compiled information on retainers and per meeting fees offered to Directors of the insurance companies in our study. Survey statistics indicate that there is a direct relationship between the size of these companies and the compensation offered to Directors.
TCS's EPPI Compensation Survey (Executive and Professional Positions in Insurance) fills a vacuum for timely and accurate survey data on insurance industry positions. This survey, which is compiled by the independent firm, demonstrates how to apply salary administration theory that can enhance recruiting, reduce turnover, and potentially improve employee performance. It serves as an effective, easy-to-use tool for compensation and human resources practitioners to apply sound pay policies and procedures in their everyday work.
Copies of the 2015 EPPI Compensation Survey may be obtained from TCS. If you have questions regarding this report, please call Tom Bailey at TCS - (914) 730-7300 or email questions to: tbailey(at)total-comp(dot)com.