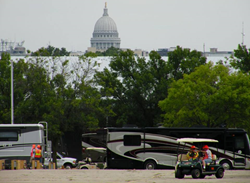 We are off to a great start with our members joining together for summer fun.
Cincinnati, Ohio (PRWEB) July 31, 2015
The 92nd Family Reunion & Motorhome Showcase, hosted by Family Motor Coach Association (FMCA), is underway at the Alliant Energy Center in Madison, Wisconsin, through August 1, 2015.
"We are off to a great start with our members joining together for summer fun," said Jerry Yeatts, FMCA executive director. "With outstanding weather and our members' great attitudes, this is shaping up to be an excellent event for FMCA."
Cincinnati-based FMCA, an international organization for people who own motorhomes, has welcomed approximately 1,400 motorhomes for the four-day convention.
Event highlights thus far include a motorhome showcase featuring the latest models; a RV-related product and service trade show of more than 300 booths; seminars conducted by RV experts; and nightly entertainment.
It's not too late to attend! Although the convention is organized for FMCA members, the association also invites members of the public to attend and provides various admission options.
For those who wish to view only the motorhome exhibition, admission costs $7 per day; children 12 and under are admitted free with an accompanying adult, as are those with an active military ID. Those who would prefer to take in the exhibits and also attend seminars and entertainment may purchase a Daily Passport, which is available for $65 per person ($55 for FMCA members).
Public parking will be available at the John Nolen Gate, located off John Nolen Drive.
Family Motor Coach Association (FMCA) is an international organization for families who own and enjoy the use of self-contained, motorized recreation vehicles known as motorhomes. The association maintains its national headquarters in Cincinnati, Ohio, and currently has nearly 75,000 active member families. FMCA offers its members a number of benefits, including a subscription to its monthly magazine, Family Motor Coaching; a medical evacuation and travel assistance program valued at $105 per family; group rates on a roadside assistance program and on motorhome and auto insurance; discounted rates for RV tours and caravans; and a tire purchasing program. Perhaps the most important benefit of FMCA membership is the camaraderie and friendships that develop among people enjoying the common interest of motorhome travel and recreation. The organization can be reached at (513) 474-3622 or (800) 543-3622 and on the Web at FMCA.com.