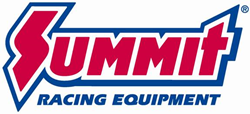 Tallmadge, OH (PRWEB) August 05, 2015
Looking to get some serious horsepower out of a GM LS engine? Summit Racing now offers the new Brodix BR Series aluminum cylinder heads for LS3 and LS7 engines.
BR7 and STS BR7 Cylinder Heads for LS7
Brodix BR7 cylinder heads feature 262cc CNC-ported rectangular port intake runners that flow over 360 cfm of air. Assembled head features include:
• 71cc combustion chambers—choice of CNC-machined or standard

2.204 inch intake/1.614 inch exhaust valves
240cc CNC-ported exhaust runners
1.295 inch diameter valve springs rated to .600 inches of valve lift
Bronze valve guides
Seven degree valve locks
Retainers and seals
The BR7 STS cylinder heads are a step up from the standard BR7s. They have 264cc CNC-ported intake runners that flow over 375 cfm, plus CNC-machined 71cc combustion chambers and 1.350 inch diameter valve springs rated to .700 inches of valve lift. Assembled heads come with valve locks, retainers, and seals.
A 4.125 inch minimum cylinder bore size is recommended for the BR7 and STS BR7 cylinder heads. They are also available as bare castings.
BR3 Cylinder Heads for LS3
The BR3 cylinder heads have 280cc CNC-ported rectangular port intake runners that flow 362 cfm of air. Assembled head features include:
• 71cc combustion chambers

2.165 inch intake/1.590 inch exhaust valves
1.590 inch diameter valve springs rated to .600 inches of valve lift
Bronze valve guides
Seven degree valve locks
Valve spring retainers and seals
Summit Racing Equipment
http://www.SummitRacing.com
1-800-230-3030