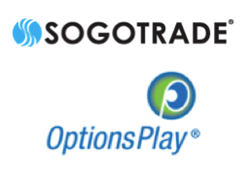 Jersey City, NJ (PRWEB) August 04, 2015
SogoTrade, a deep discount online brokerage firm based in New York, today announced the addition of OptionsPlay Ideas to the SogoTrade online trading platform. OptionsPlay bundles equity analytics with trade strategy guidance into a single powerful solution. With OptionsPlay, SogoTrade can provide its customers with access to more advanced options trading strategies while helping them to reduce their trading loss risks.
"We are committed to providing our customers with the best tools available to help them make better trading decisions," said SogoTrade CEO Jonathan Yao. "OptionsPlay will enhance our client's experience by showing them how to generate income on their existing portfolios and quickly identify new market opportunities with confidence. The platform's unique analytics and easy to understand graphics will help guide our customers to intelligent trading decisions and optimization of returns."
With the growing number of Chinese companies going public in the U.S. and growing interest in U.S. equities from investors abroad, SogoTrade has made it a priority to develop a robust Chinese language trading platform to enhance the online experience of Chinese speaking domestic and international clients. SogoTrade will be launching Chinese language version of OptionsPlay Ideas in the near future. SogoTrade customers will then be able to select between English or Chinese versions of the OptionsPlay Ideas from their SogoTrade user interface.
"This is a very exciting time for us," said Yao. "Our clientele have often expressed dismay with current options trading product offerings that do not include a localized user interface. OptionsPlay Ideas will not only provide a Chinese translation, but the platform helps to make even the most advanced trading strategies easier for investors to understand, including those with limited options experience or education."
Through OptionsPlay Ideas, SogoTrade now offers a wide array of unique capabilities for users to leverage, including:

Daily Trade Ideas: A daily list of stocks triggered by bullish and bearish technical scans
Income Generator: Shows investors with stock or cash holdings optimized income generating strategies
Proprietary OptionsPlay Score: A powerful metric that reconciles risk, reward, and probability of trade profits at a glance
Natural Language Processing: Sophisticated trend, price action and trade strategies presented in clear, simple terms
Trading Strategy Checklist: Appraises traders of all known risks just prior to order submission, validating their strategy against complex market conditions
Seamless Brokerage Platform Integration: Embed directly in your platform, automatically pre-fill order tickets, or flexible API delivery options
"SogoTrade is focused on delivering the best investment management tools for their customers," said Mark Engelhardt, OptionsPlay CEO. With the explosion of options trading in self-directed channels, OptionsPlay provides SogoTrade with a competitive edge by removing much of the complexity from option strategies and providing easy to understand visibility about the risks and rewards. Our platform makes options trading accessible to all qualified investors, including those with limited options trading experience."
To learn more about OptionsPlay Ideas, visit http://www.optionsplay.com
Supporting documentation will be supplied upon request.
About SogoTrade, Inc.
SogoTrade, Inc. is a U.S. online discount stock brokerage firm offering a wide range of investment products including stocks, options, ETFs and educational savings accounts. With its five online trading platforms and its market research tools, SogoTrade provides its Customers with some of the best trading technology while delivering some of the lowest commissions in the industry. SogoTrade offers discounted online trades for as low as $3 for stocks and ETFs, and $5 for Options (plus 50¢ per contract). SogoTrade has offices in New York, St. Louis and Los Angeles with bilingual customer services. They provide 24-hour customer service, Monday through Friday. For more information visit: http://www.SogoTrade.com
About OptionsPlay
Headquartered in Jersey City, NJ, OptionsPlay® is a product of Syrah Trading Technologies. The team brings a new level of innovation to financial services, with the common goal of transforming the way investors think about trading. OptionsPlay Ideas is the first product in a suite of OptionsPlay offerings rolling out over the next year. With the clear mission to transform the tools and techniques of Wall Street options traders into powerful and easy-to-use solutions for investors, financial institutions can implement OptionsPlay Ideas to generate new revenue and build stronger customer relationships. For more information visit http://www.optionsplay.com or contact us at 855-557-5297.
Options involve risk and are not suitable for all investors. Before considering any option transaction, please read Characteristics and Risks of Standardized Options.