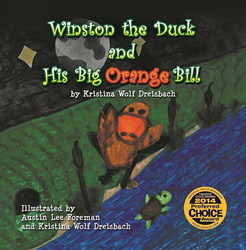 "We are thrilled to be the publisher of this wonderful children's book that has been recognized for its powerful message." - Robert Fletcher, CEO of Strategic Book Publishing and Rights Agency
(PRWEB) August 06, 2015
Strategic Book Publishing is proud to announce that author Kristina Wolf Dreisbach of Jeffersontown, Kentucky, was a winner in the 2015 Baby Maternity Awards Program for her children's book "Winston the Duck and His Big Orange Bill." The story won the Top Choice of the Year Award in the Kids Category. Her book previously won the Preferred Choice Award in 2014 from Creative Child Magazine.
This delightful tale follows Winston the duck from the very day he's born on Cady Cove Lake to Mr. and Mrs. Mallard Duck. All the animals come to see the blessed event, but Winston is born different from all the other ducks. He has a big orange bill that makes him stand out, so many animals make fun of him. Winston knows that God made him different for a reason and he becomes determined to find out why.
One night Winston heads out to the lake and meets up with Mr. Raccoon. The two get into trouble when an owl wants to eat them for dinner! When his friend is scooped up into the air, Winston prays for the strength to save him and comes to the raccoon's rescue. The friends finally realize why God gave Winston his big orange bill.
By the way, Winston got his name because the author once had a duck named Winston!
Watch the video book trailer at: https://www.youtube.com/watch?v=1BwVxJWw5rU
About the Author: Award-winning author Kristina Wolf Dreisbach is a former preschool teacher in Jeffersontown, Kentucky. "Children in my classes loved to hear my stories that I wrote or made up on a whim for them. My dream has been to write a children's book and now God has made my dream come true! I hope every child who reads this book will know that God makes us all different, and to be confident in Him, and who He has made us to be!"
"We are thrilled to be the publisher of this wonderful children's book that has been recognized for its powerful message," said Robert Fletcher, CEO of Strategic Book Publishing and Rights Agency.
WINSTON THE DUCK AND HIS BIG ORANGE BILL (ISBN: 978-1-62212-897-6) is now available for $13.97 and can be ordered through the publisher's website:
http://sbpra.com/KristinaWolfDreisbach or at Amazon.com or Barnesandnoble.com.
WHOLESALERS: This book is distributed by Ingram Books and other wholesale distributors. Contact your representative with the ISBN for purchase. Wholesale purchase for retailers, universities, libraries, and other organizations is also available through the publisher; please email bookorder@sbpra.net.