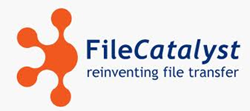 The FileCatalyst solution will be a great option for our clients who want to transfer large multimedia files quickly and securely
(PRWEB) August 05, 2015
Unlimi-Tech Software, Inc., an Emmy® award winning pioneer in managed file transfers and the creator of FileCatalyst, a world leading accelerated file transfer solution, is pleased to announce a new channel distribution partnership in the Philippines with Media Convergence.
Media Convergence is committed to bringing state-of-the-art, reliable, flexible solutions to meet the operational and technical needs of broadcast, film, cable, satellite TV, post production and telecoms in the Philippines. As a company that understands the industries' transition stages, Media Convergence endeavors to provide the best and latest technologies, products and services abroad, and introduce them locally in the timeliest and most cost-efficient way.
Media Convergence has partnered with FileCatalyst to provide the latest in broadcast technology to their clients looking to increase the speed of file transfers without compromising reliability or security. The FileCatalyst platform is immune to packet loss and latency while transferring large files over unreliable bandwidth connections or vast geographical distances, which will be a benefit to Media Convergence's customer base. While traditional file transfer methods like email and FTP are unable to keep up with increasingly larger file sizes, FileCatalyst ensures the transfer of any file, of any size, at speeds of up to 10 Gbps.
"We are proud to be able to offer our broadcasting and multimedia customers an accelerated, reliable and secure file transfer solution through our partnership with FileCatalyst," said Al Z. Banguilan, CEO at Media Convergence. "The FileCatalyst solution will be a great option for our clients who want to transfer large multimedia files quickly and securely."
"Media Convergence is one of the most trusted solutions providers to major broadcasters and multimedia companies in the Philippines, so partnering with them was an easy decision to make," said Alan Atkinson, Unlimi-Tech's Vice President of Business Development. "It is exciting to be reaching out to new markets and providing FileCatalyst's accelerated file transfer solutions to new users."
About Unlimi-Tech Software, Inc.
Located in Ottawa, Canada, a pioneer in managed file transfers, is the creator of FileCatalyst, a world leading accelerated file transfer solution. Founded in 2000, the company has more than one thousand customers in media & entertainment, energy & mining, gaming, and printing, including many Fortune 500 companies as well as military and government organizations. FileCatalyst is a software platform designed to accelerate and manage file transfers securely and reliably. FileCatalyst is immune to the effects that latency and packet loss have on traditional file transfer methods like FTP, HTTP, or CIFS. Global organizations use FileCatalyst to solve issues related to file transfer, including content distribution, file sharing, and offsite backups. To learn more visit http://www.filecatalyst.com or on Twitter @FileCatalyst.
About Media Convergence Inc.
Media Convergence, Inc. is the product of inspired and innovative minds whose vision is to become the most preferred company that introduces, offers and provides high quality, affordable and reliable multimedia technologies, services and solutions .To learn more, please visit http://www.mediaconvergenceinc.com.