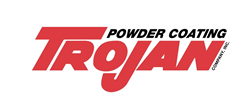 "We are honored to be named top shop in North America," says Carl Troiano, owner of Trojan Powder Coating. "We approach each area of our business with care, diligence and passion. To have the industry recognize that is extremely rewarding."
Bay Shore, New York (PRWEB) August 06, 2015
Trojan Powder Coating is thrilled to announce its latest industry recognition: Products Finishing magazine has named the company number one finishing shop in North America.
Trojan Powder tops the list of the nation's 50 best providers, earning them the cover of the magazine's October issue. The results were determined by an industry benchmarking survey conducted by Products Finishing, a trade publication that has covered the industry since 1938.
"We are honored to be named top shop in North America," says Carl Troiano, owner of Trojan Powder Coating. "We approach each area of our business with care, diligence and passion. To have the industry recognize that is extremely rewarding."
After conducting an extensive survey—one that analyzed hundreds of shops throughout North America—Products Finishing awarded Trojan Powder Coating the top spot based on its performance across several categories: Current Finishing Technology, Finishing Practices and Performances, Business Strategies and Performances, and Training and Human Resources. All three locations received this acknowledgment: Trojan Powder Coating (Bay Shore, NY), Trojan Florida Powder Coating (Sarasota, FL), and Trojan Architectural Coaters (Pompano Beach, FL).
"Trojan Powder Coating has established itself as one of the best finishing operations in the industry," says Tim Pennington, editor of Products Finishing magazine."The criteria we used was very stringent, and only the top finishing shops that excelled in all four areas made the list. The Trojan Powder Coating brand is in rare air when it comes to finishing operations."
The top 50 list appears in the October issue of Products Finishing, available October 1st.
For additional information, images and interview requests, please contact:
Trojan Powder Coating
Carl Troiano
Carl(at)TrojanPowder(dot)com