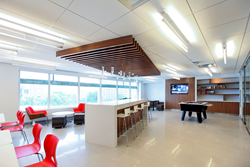 We look forward to continuing to provide our clients with outstanding results for spaces that help to further their company missions and best portray their workplace cultures and values
Washington, DC (PRWEB) August 06, 2015
The Washington Business Journal released "The List" on July 31 that ranked interior design firms based on 2014 Washington, DC, metropolitan area interior design revenue. This list ranked OTJ Architects as the fourth-largest interior design firm – up two spots from last year's sixth-place ranking – with a 2014 revenue of $11.03 million.
"We are all very excited to see OTJ move up on the Washington Business Journal list of interior design firms because it shows the all-around growth the firm has experienced," said Lance Jaccard, OTJ Managing Partner. "It is a direct reflection of the commitment to excellence by all of our highly skilled architects, designers and support staff."
In the past year and a half, OTJ 's success can be seen in the opportunities to work with many well-renowned companies to both develop and redefine their office settings by providing workplace strategy, full-service design and change management services.
Several of these large-scale projects, which range from corporations, government agencies, nonprofits and trade associations, include the following:

The Nature Conservancy (119,000 square feet)
Corporation for National and Community Service (85,000 square feet)
United Way Worldwide Headquarters (85,000 square feet)
Alarm.com (80,000 square feet)
Sands Capital Management (80,000 square feet)
American Psychiatric Association (70,000 square feet)
Federal Realty Investment Trust (60,000 square feet)
Save the Children (60,000 square feet)
"We look forward to continuing to provide our clients with outstanding results for spaces that help to further their company missions and best portray their workplace cultures and values," Jaccard said. "Most of all, we want our clients take pride in their new spaces and also in the job we have done."
Contact OTJ Architects to discuss your architectural needs today.
About OTJ Architects
OTJ Architects is a well-respected national interior architecture design firm that has successfully completed thousands of projects throughout the country. Founded in 1990, OTJ is comprised of five studios headquartered in Washington, DC, with more than 60 architects and designers, many of whom are LEED Accredited Professionals. OTJ works on projects coast to coast and is able to consult in all 50 states. The responsive interior architecture consultants create effective environments through listening, understanding and tailored design. These designs focus on helping clients enhance collaboration, company branding and employee recruitment and retention. OTJ's design teams provide clients with personalized attention to create workplace solutions that reflect their unique, individual needs. For more information, please visit http://www.otj.com.