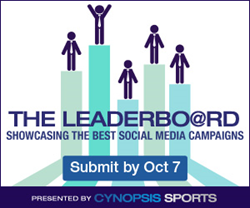 New York, NY (PRWEB) August 06, 2015
Cynopsis Sports announced the launch of The Leaderboard, showcasing the best social media campaigns in the sports industry for 2015. Entries are being accepted through October 7, and the winners will be announced in early November with a celebratory luncheon during the Cynopsis Sports Engagement Summit on Wednesday, December 2, 2015 at the New York Athletic Club in New York City.
From global brands to local stations, million-dollar campaigns to viral-on-a-budget, social media has proven to be the great equalizer. The Leaderboard is a unique program that breaks out the most prolific, engaging and creative work in social media to recognize the best of the best from a historic year.
"Last year's list of Leaderboard winners represented blueprint material for any organization who wanted to deliver a deeper experience for consumers," said Chris Pursell, Cynopsis Media's Director of Sports Content. "Looking at some of the campaigns that have been launched so far this year, I expect the Leaderboard roster will once again represent top-notch initiatives that connected brands and fans." (Click here to see the 2014 Winners).
The Cynopsis Sports Leaderboard is open to individuals and teams worldwide that utilized social media platforms to promote products to sports fans throughout 2015 including: networks, brands, digital platforms, MSOs, leagues, teams, universities, production companies, studios, producers, developers, marketing and PR firms, ad agencies and more. Vendors are also eligible to enter on behalf of a client. (Enter online now)
For entry questions, contact Sarah Martinez at Sarah(at)cynopsis(dot)com. For advertising or sponsorship information, contact VP of Sales & Marketing Mike Farina at Mike(at)cynopsis(dot)com.
ABOUT CYNOPSIS MEDIA
Cynopsis Media is a division of Access Intelligence LLC. The Cynopsis Media family of products includes Cynopsis, Cynopsis Digital, and Cynopsis Sports daily e-publications, weekly Cynopsis Classified Advantage e-publication, Special eReports, Event/Summits, the industry's most robust Classifieds and more. Visit Cynopsis.com.