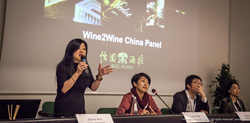 The "new and improved" edition of wine2wine will showcase theoretical seminars with a much stronger emphasis on a pragmatic and hands-on approach
Verona, Italy (PRWEB) August 06, 2015
Most Italians are now getting ready to go on their traditional "Ferragosto" holiday while wine2wine, the Italian industry forum entirely dedicated to the business of wine, is preparing for the countdown of its second edition to be held in Verona on the 2nd and 3rd of December. Stevie Kim, Managing Director and Ian D'Agata, Scientific Director of Vinitaly International anticipate a peek into what promises to be a program filled with an international market-driven approach to a wine business forum.
The "new and improved" edition of wine2wine will showcase theoretical seminars with a much stronger emphasis on a pragmatic and hands-on approach thanks to initiatives such as two Business Arenas and a new Vinitaly International Buyers Lounge that will effectively triple the space dedicated to face-to-face meetings.
The new events include:

"Meet the VIA Italian Wine Ambassadors" – A chance to meet ambassadors of the Vinitaly International Academy from all over the world and build a global support network;
Speed dating sessions with Buyers – An opportunity for wineries to speed date buyers from different countries in order to further expand their business in international markets;
"Meet the importers" sessions – A chance to talk face to face with importers from various countries and exchange contact information;
#HireMeVinitaly – a new tool for Italian wine producers and potential employees to connect.
The 2015 edition will also include a number of institutional and sponsored sessions as well as key players of the wine sector who will take attendees through a series of one-hour seminars covering a wide range of topics, from law and finance to international markets and digital marketing. Furthermore, this year, the event features a particular focus on the USA market and will entail a number of dedicated seminars including the keynote session on day one featuring a market presentation by Daniel Brager, Senior Vice-President, Beverage Alcohol Practice at Nielsen Company. A further in-depth analysis will be carried out by Levi Dalton, host at "I'll drink to that" podcast and contributing wine writer for Eater NY, who will be heading a panel of US buyers introducing their point of view on local trends and business opportunities.
Other market focuses will also include a workshop dedicated to the somewhat complicated but attractive Swedish market where Erica Landin, Swedish-American wine writer and columnist for Sweden's largest wine magazine will be moderating top names of the local wine industry such as Sara Norell, Head of the purchasing department at Systembolaget.
A large number of sessions will also be dedicated to wine communication offering producers practical information on how to better communicate their wine in up-and-coming markets through social media and state-of-the-art communication strategies: amongst these, Robert Joseph, Founder of Wine International and Editor at Meninger's Wine Business International together with Torben Mottes, VP Product Manager at Vivino, will be broaching the awkward question of who will be replacing traditional wine critics in the near future and who wine producers and distributors can turn to for a reliable opinion.
Wine2Wine is mostly about wine business, however, the day prior to the inauguration, there will be a bit of tasting. On December the 1st, with two exclusive tastings with the international speakers: in the morning, a special tasting panel dedicated to Italian wines from two specific Italian regions and consortiums whilst in the afternoon, after lunch, there will be a two-hour forum focused on the grape varietal Sangiovese, held by top national and international speakers. The conference will be followed by a two and half hour Walk Around Tasting session where attendees will be offered the opportunity to taste Sangiovese wines from all over the world.
About:
Veronafiere is the leading organizer of trade shows in Italy including Vinitaly (http://www.vinitaly.com), the largest wine and spirits fair in the world. During its 49th edition Vinitaly counted some 4.000 exhibitors on a 100.000 square meter area and 150.000 visitors including 2.600 journalists from 46 different countries. The next edition of the fair will take place on 10 - 13 April 2016. The premier event to Vinitaly, OperaWine (http://www.vinitalyinternational.com) "Finest Italian Wines: 100 Great Producers," will unite international wine professionals on April 9th in the heart of Verona, offering them the unique opportunity to discover and taste the wines of the 100 Best Italian Producers, as selected by Wine Spectator. Since 1998 Vinitaly International travels to several countries such as Russia, China, USA and Hong Kong thanks to its strategic arm abroad, Vinitaly International. In February 2014 Vinitaly International launched an educational project, the Vinitaly International Academy (VIA) with the aim of divulging and broadcasting the excellence and diversity of Italian wine around the globe. VIA has now also organized its very first Certification Course with the aim of creating new Ambassadors of Italian Wine in the World.
###